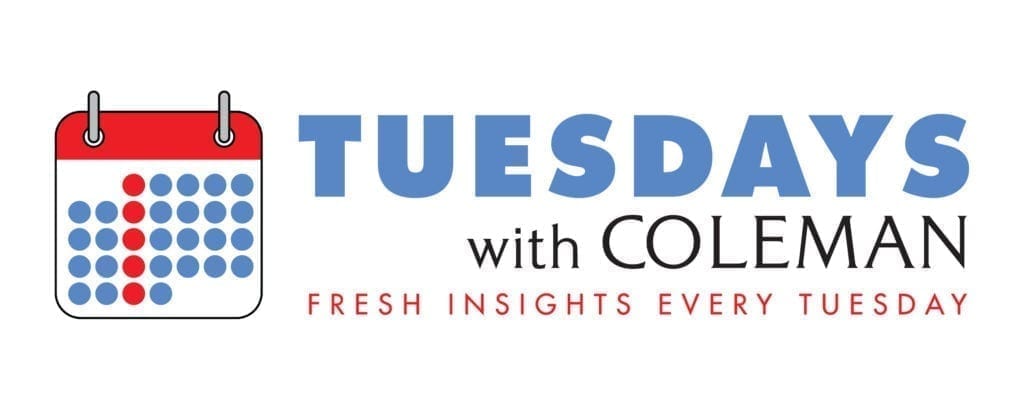 Tuesdays with Coleman is our weekly blog series for tips and insights on branding, content and research strategy.
Let's count down our top 5 blogs of 2019 and subscribe for fresh insights in your inbox each Tuesday!
#5-When Radio Stations Underperform Their Images
By: Jessica Lichtenfeld
July 23, 2019
In the course of our research, we sometimes encounter brands that are experiencing a lack of balance. For example, a station will have what looks like a strong brand—it's known for being "the Rock station" or "the Oldies station" or "the Old School station," whatever its Base Music Position might be. Its music images—that is…Read More
#4-Too Many Messages!
By: Warren Kurtzman
October 8, 2019
Regular readers of Tuesdays With Coleman and loyal Coleman Insights clients know of our affinity for Outside Thinking, the ability to look at any business, product or service from the perspective of its customers or users. Furthermore, those of you who have listened to my colleagues and I espouse on Outside Thinking know that understanding …Read More
#3-Is Your Radio Station a Bunch of Jerks?
By: March 19, 2019
Jay Nachlis
Two years ago, I attended a Carolina Hurricanes game. While sitting in the lower level, I took a look around and snapped this picture on my phone. This was a National Hockey League game between the Hurricanes and Buffalo Sabres on a Friday night in Raleigh, North Carolina, and the number of empty seats was…Read More
#2-The Current State of Contemporary Music
By:  Warren Kurtzman
April 2, 2019
Coleman Insights is releasing findings from its Contemporary Music SuperStudy in a four-part blog series, followed by a free webinar on April 30th in which the findings will be covered in greater depth. Details to register for that webinar are below. There's no shortage of song data for today's radio program directors. Radio airplay data… Read More

#1-The Misguided Allure of Deep Tracks
By: Jon Coleman
June 18, 2019
Don't get radio talent coach Steve Reynolds started on deep tracks. Wait, it's too late. It all started June 2nd at 11:53am on his Facebook page, when he posted this: "Dear Yacht Rock Radio on SiriusXM: welcome back, happy summer, missed you, but…you're playing lots of unfamiliar music and songs that are stiffs. Please get…Read More