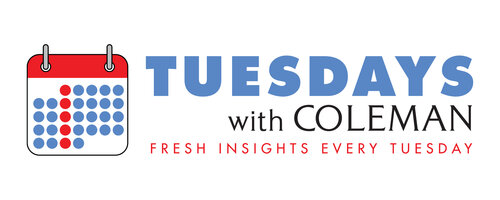 Tuesdays with Coleman is our weekly blog series for tips and insights on branding, content and research strategy.
Here are a few of our recent trending blogs.
We invite you to subscribe for fresh insights in your inbox each Tuesday!
#3- What Makes a Personality Memorable?
By: Jay Nachlis
June 27, 2023
This isn't another blog on the benefits or perils of "AI Ashley" or Artificial Intelligence's potential effects on the radio industry. It is, however, a reminder of the crucial importance of…Read More
#2- Why Your Radio Station or Streaming Channel Must Evolve with Music Tastes
By: John Boyne
May 23, 2023
One of the most challenging tasks facing the program director of a radio station or streaming channel is determining when the tastes of the target audience. While there is no easy or singular solution, it helps to understand…. Read More
#1-When Should You Sacrifice Short-Term Performance for Long-Term Benefit?
By: Warren Kurtzman
February 28, 2023
When my Coleman Insights colleagues and I consult the brands we work with, one of the biggest challenges we face is convincing a client…Read More