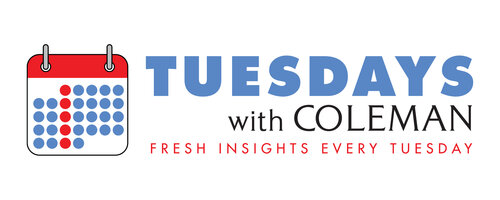 Talent coach Steve Reynolds from The Reynolds Group has an unnaturally high affinity for soft rock favorites. Which makes him the natural choice to be the guest author of today's Tuesdays With Coleman blog.
I love love songs. Let me control the music when we're together, and it's likely the ride will be with the Carpenters, Barry Manilow, Dan Fogelberg, Bread, and Ambrosia. Younger Steve might have been embarrassed to admit this. Today's Steve owns it and will show you all the kitschy music he sings along with in the car.  Which brings me to a call I had with the show I work with at WINK-FM in Fort Myers, FL.
Logan, the morning co-host, was sharing that he remained in the good graces of his wife because he had just taken her to another Air Supply show. They both adore the group. This led to a discussion of Soft Rock, which Logan knows I enjoy. Logan recommended I watch "Sometimes When We Touch", a documentary about the history of Soft Rock and how it morphed into another of my musical passions, Yacht Rock (of which many know I am highly opinionated), on Paramount+. I watched it that night.
"Sometimes When We Touch" is shown in three parts: the reign, ruin, and resurrection of Soft Rock.  It was completely engaging, fun, and a great escape.
Here's what rang true as I smiled and sang throughout all three parts and how they pertain to radio:
BE THE CANDY, NOT THE ENTRÉE. The entrée is serious. Candy is fun. It's lighthearted. It's a guilty diversion. "Sometimes When We Touch" is total candy with zero "nutritional value." It's not designed to make you think too hard. It's meant to be a diversion. When I saw the Eagles recently on their Hotel California tour, Don Henley told the audience they'd give us a three-hour vacation from the stresses of the real world with hit after hit we could sing along with. That's exactly what they did. No one left in a bad mood.  Be the candy, not the entrée. If you're a music station, unless you're compelled to cover something that dictates being serious, handle everything else with humor, mischievousness, curiosity, and fun. Be the candy. That's the X factor for radio.
DON'T ABANDON YOUR POSITION. Everything is cyclical. Something that may go out of fashion comes back. It inevitably happens to every brand. You may be the shiny new object one day and then competitors try and take your position. One of the greatest pieces of advice I got from Jon Coleman in the early years of my company was to know my position in the marketplace and to not bend with the winds. Abandon your position and it may never come back to you. Turns out Soft Rock had more staying power than anyone expected, but the brand was always true to itself.
AUTHENTICITY IS POWERFUL. Speaking of being true to oneself, there's the enduring power of authenticity. Dan Hill tells the story in the show of how he wrote "Sometimes When We Touch". He was dating an older woman who rejected him, and he wrote her this immensely honest love song to express his feelings. He told her his truth through his song. She said he was too sensitive. It became by far his biggest hit. After it topped the charts she wanted him back, but it was too late. Always, always, always tell the audience the truth.  Great brands and talent do, and the audience knows if you aren't.
PROTECT YOUR IP. I knew we'd eventually get to Yacht Rock and it happened. That was the greatest point of curiosity for me. Who came up with the term? How? And why the hell didn't they trademark it so they could become zillionaires?? J.D. Ryzer and Hunter Stair created the term "Yacht Rock" with their YouTube series of the same name. They'd surely be rich…had they trademarked it. But they didn't, which is heartbreakingly detailed in the series. Thinking about how to protect your brand is so important. We come up with ideas that turn into morning show features or community service programs, for example. One of my processes at that point is asking, "Have we secured a service mark for it? Do we have the YouTube channel? Maybe bought the website domain?" Because if not, someone could steal our intellectual property. If you develop something unique to your brand, own it not only in execution, but own it legally.
EARN YOUR LISTENERS' TRUST. I posted about "Sometimes When We Touch" on Facebook because I am passionate about the music and its evolution. I wanted to share my find with my people. Jay Nachlis from Coleman and other friends in my network watched it because they trust my opinion, much like I trusted Logan's. And then they tell their friends, who tell their friends. Isn't that how you find new streaming TV shows? Aren't you more apt to trust a friend's recommendation than an ad? In radio, we worry so much about engaging with listeners tactically. But if they trust you, you have them for so much more than a promotion. Talent builds trust with the audience so when they're endorsing a product, talking about the radio station, or doing content in their unique way, listeners who trust them will endorse you to their network of friends (aka "future listeners"). Talent = Trust. Work hard on that part of your brand.
Great brands make you feel something. Tap into "Sometimes When We Touch" for some Soft Rock inspiration.
Now, who's ready to set sail with Captain Steve? The SS Reynolds leaves the dock promptly at 7:00pm.  On board entertainment is Christopher Cross and Seals and Crofts! Tomorrow night? Michael McDonald and Kenny Loggins!