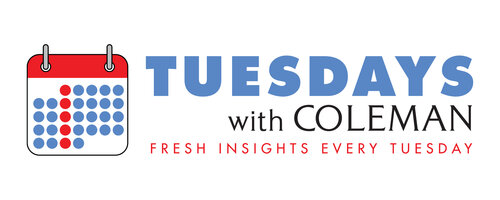 Coleman Insights is releasing findings from its Contemporary Music SuperStudy 4 in a three-part blog series, followed by a free webinar on Wednesday May 11th at 2PM EDT/11AM PDT, in which the findings will be covered in greater depth. Details to register for that webinar are below.
In last week's Tuesdays With Coleman blog, Warren Kurtzman examined Contemporary Music SuperStudy 4's differences by genre, including how different types of music vary based on where listeners live and their political affiliation. This week, we'll look at how age, gender, and ethnicity affected contemporary music appetites in the latest edition of our benchmark study.
As John Boyne and Warren Kurtzman have pointed out in previous blogs, the big story of Contemporary Music SuperStudy 4 is the lack of newer music among the best-testing titles. Although we see quite a lot of older material among the most popular songs of each age group, the past year's music is a little more represented among the Top 100 titles with 12- to 24-year-olds (37%) than with 25- to 34-year-olds (31%), 35- to 44-year-olds (29%), or 45- to 54-year-olds (29%). More pronounced are differences in the genres preferred by each age group. While Pop music is well-represented among the Top 100 titles of each age group, Hip Hop/R&B and Country vary dramatically by age. 12- to 34-year-olds have more Hip Hop/R&B than Country, while 35- to 54-year-olds have more Country than Hip Hop/R&B. This is not a new development; previous SuperStudies have shown a similar pattern.
Men and women agree on one thing completely, and you don't hear that very often. Pop represents 43% of the Top 100 songs among men, the identical percentage of the top songs among women. But just as Country leans much older, it also leans heavily Female, making up 22% of the Female Top 100 and only 5% of the Male Top 100. Meanwhile, Hip Hop/R&B, Alternative/Rock, and Dance/Electronic are more popular among men than among women.
Genre tastes also vary by ethnicity. Among Black consumers, Hip Hop/R&B is by far the most popular genre, with 67% of their Top 100. The Hispanic Top 100 includes a lot of Hip Hop/R&B (41%) as well as a lot of Pop (33%). Among everyone else, Pop (40%) and Country (32%) have the biggest shares of Top 100 songs.
Next, we'll examine how consumption habits might have affected contemporary music tastes. While there were some differences, the hierarchy didn't vary a great deal. Whether you were a daily streaming service listener, AM/FM listener, podcast listener, or smart speaker listener, you were most likely to prefer Pop first and Hip Hop/R&B second. That said, podcast listeners were more likely than the other groups to listen to Hip Hop/R&B, and AM/FM listeners were more likely to prefer Country. Also of note: Apple Music listeners' tastes are more Hip Hop/R&B-oriented than the tastes of listeners to other streaming services, and those who use TikTok for new music discovery also have an above-average quantity of Hip Hop/R&B among their favorite contemporary songs.
Registration is now open for the Contemporary Music SuperStudy 4 Deep Dive webinar, which takes place next Wednesday, May 11 at 2PM EDT/11AM PDT.