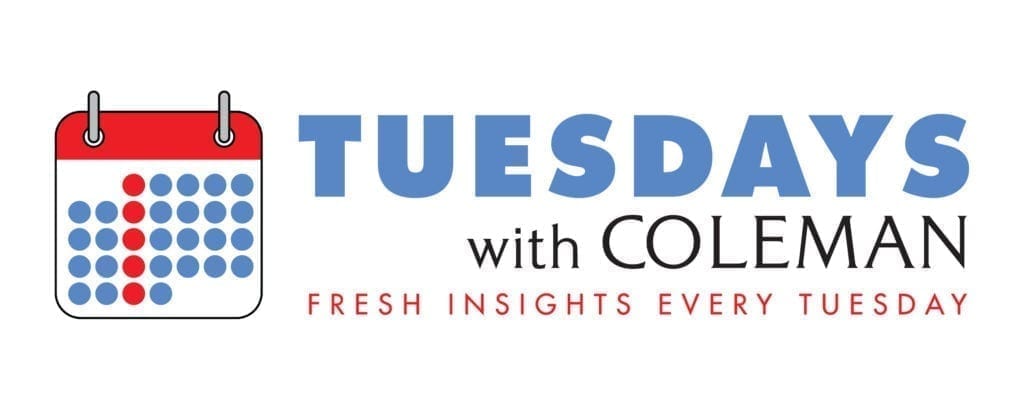 In 1978, when Jon Coleman started Coleman Insights, he had a clear vision of the kind of company he wanted to build. As he recounted in this video forty years later, he wanted to "go beyond just providing information and provide insights that yield to real actions." Jon also wanted to help clients formulate and monitor tangible action plans for the radio stations that made up the core of our business for most of our first four decades.
Jon's philosophy still governs the work we do for what is now a wide array of audio brands. That's why today we are launching a new initiative called "Coleman Complete," that encapsulates our approach and spells out specific benefits for radio clients in the United States and Canada who use our Plan DeveloperSM perceptual studies, FLIP format search studies, and FACT360 Strategic Music TestsSM.
I will not, however, use this blog to sing the praises of Coleman Complete. If you would like to learn more about its benefits, please visit this page on our website.
Instead, I want to share with you what went into the development of this campaign, because I believe it could be instructive for many Tuesdays With Coleman subscribers. You probably won't be surprised to learn that when we set out to launch a new marketing campaign for our company, it started with research.
During the height of the pandemic lockdowns, we conducted in-depth interviews with roughly three dozen decision-makers randomly selected from our client base. These interviews followed a scripted pattern designed to have these customers give us blunt, objective assessments of our work, including what they valued the most in their relationships with Coleman Insights and what they thought we could do better. When we completed the interviews, we coded all the responses we received—even as going as far as categorizing responses as positive, negative, or neutral—and analyzed the data for patterns and recurring themes.
I can't overstate how valuable this process for us. It gave us ideas about unmet needs that many of our clients have, some of which will drive enhancements to our services and the launch of new products you will see from us in the coming months.
What was most encouraging, however, was that what Jon Coleman set out to do more than forty years ago was what most of our clients told us they most value about working with us. Our clients told us that while they have confidence that we have excellent services and that they trust us to collect data "the right way," what they really valued was how we go beyond delivering data and help them formulate strategies for their radio stations to succeed. They felt that we are invested in real partnerships with them and are always available to collaborate on the refinement or implementation of the strategic plans we develop together.
Thus, a marketing idea was born. To be honest, when the value you offer your clients consists of intangible attributes like "trust," "relationships," "follow-up," and "partnerships," communicating that value through marketing can be challenging. We feel that the idea that the research Coleman Insights delivers is "complete" communicates that value and differentiates what we do from competitors who conduct research as inexpensively as possible or who do little more than dump a lot of data on their clients. Our goal is for our clients to know that when their research is Coleman Complete, they have the insights, tools, and guidance they need to succeed.
For our long-time clients, the idea of Coleman Complete is a formal statement of what they already thought of us. For those reading this blog who haven't worked with us before, we hope this increases the likelihood that you will consider building a relationship with us. After all, the best marketing campaigns reinforce a product or service's value to its existing users while making non-users more likely to consider using it.
It's like the radio station that stays focused on communicating that it's "Number One for Hip Hop and R&B"; its likely not telling its existing audience something they didn't already know, but it invites non-listeners who like Hip Hop and R&B to check it out. To our existing customers—especially those who answered our interview questions—we hope this reinforces how you already think of us and you appreciate some of the new benefits we are offering. If you don't work with Coleman Insights yet, but you like the idea of a strategic research partner as opposed to a research vendor, we would appreciate the opportunity to discuss how our insights can help you.