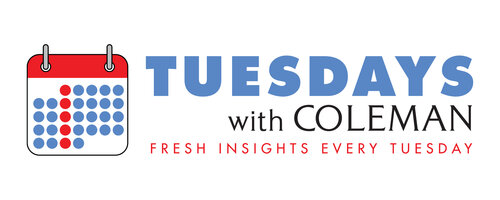 I create a lot of to-do lists. I have one for home improvements, one for gardening, one for bike maintenance, and more than one for work. Not only do these lists keep me organized, I get a lot of satisfaction from crossing tasks off my lists. The frustrating thing for list-makers…there always seems to be a section that we can't get to. New tasks continue to pop up that take priority over others.
Since I joined Coleman Insights in 2017, many clients have expressed interest in alternatives to focus groups. It is not that they didn't see value in our 20/20 Focus Group studies, but the reality is that for all the vital qualitative information they provide, focus group projects can be cumbersome from a logistical perspective and are expensive to conduct.
I've always enjoyed the qualitative side of research and was excited to take part in the development of a new research tool. We've experimented with several options over the years but couldn't find the perfect means to our desired end. Many of the solutions we tested—including conducting mini focus groups on online video platforms long before "Zooming" became a widespread pandemic pastime—never felt like the major advance in qualitative research our clients were seeking.
As eager as we were to provide a solution, finding the ultimate alternative to focus groups was a task that was continuously pushed into the next week or month as time-sensitive project work took priority.
When the pandemic hit, our priorities shifted. After in-depth discussions with some of our clients, we spent our time working on service enhancements and the task of finding an online qualitative solution moved to the top of my list. Not only were in-person focus groups off the table for the foreseeable future, we had the time to develop a tool that met our clients' needs.
Our new service, CampfireSM Online Discussion Groups, is the result of years of development and months of comprehensive testing with multiple clients. This new platform enables us to engage with listeners in an online community setting, probing deeply into brand perceptions and usage through direct questioning and off the cuff discussions. The insights from these studies have been immensely valuable to our clients.
Some of these insights include why radio listeners choose one station over another, what the audience likes and dislikes about a morning show, the individual cast members, and its features and the value of a station "name" vs. its brand. What drives listeners to one podcast and does that differ depending on the platform on which they listen? We've also uncovered some interesting findings regarding listener needs and expectations during the pandemic.
While I look forward to meeting consumers face-to-face across the focus group table again one day, I'm excited about our qualitative evolution and can't wait to see what insights we can uncover—before and after the masks come off for good.
It feels good to officially cross this off the Coleman Insights task list.
If you are interested in learning more about CampfireSM Online Discussion Groups, please click here to visit the new Campfire page on our website.