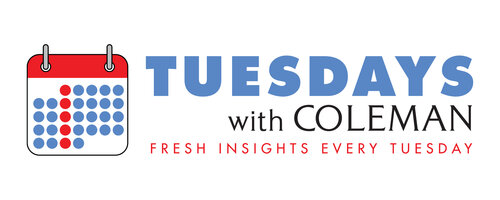 Hetal Patel is the Executive Vice President of SmartAudio Intelligence at iHeartMedia. In a conversation for this week's Tuesdays With Coleman blog, we discussed her recent talk at the Audio Intelligence Summit, "Podcasting Trends & Mythbusters: What to look forward to in 2023."
That turned into a wide-ranging discussion on generational differences and habits in audio consumption, how to connect on a deeper level with younger consumers, an untapped opportunity in podcasting, and our mutual adoration of "Extraordinary Attorney Woo," a Netflix show from South Korea featuring a lawyer with autism in the lead role.
A PODCASTING MISCONCEPTION
The Audio Intelligence Summit, a conference focused on how audio and audio advertising can be utilized effectively, was held in New York in February. Of the myths surrounding podcasting she covered in her talk, I asked Patel which myth bothered her the most. She described the lack of education surrounding platforms and publishers.
For example, iHeartRadio is a podcasting platform, but it is also a publisher. Stuff You Should Know and The Ron Burgundy Podcast are published by iHeart, but you can hear them on Spotify, Apple, and "wherever you get your podcasts." On the one hand, it's a somewhat unique dilemma to podcasting. Patel offers an analogy: "If you watch a video from a publisher like Vox, CNN, or Fox on Facebook, you know the content belongs to those publishers. But many people who listen to an iHeart show on Spotify may think it's a Spotify show. Other publishers probably feel the same thing when consuming content on the iHeartRadio app." This poses a challenge on the advertising side, when buyers don't necessarily recognize that their ads travel with the content to each platform.
To me, it's a classic example of Inside vs. Outside Thinking. Inside Thinking occurs when you're too close to the product, and you make assumptions about consumer behavior based on your own experience. Outside Thinking is adopting the mindset of your target consumer (in this case the buying community).
GENERATIONAL DIFFERENCES IN PODCAST LISTENING BEHAVIOR
Patel is struck by the primary reasons people listen to podcasts, and she shares the differences between Millennials and Gen Z. "Millennials listen to podcasts for productivity. They listen to learn something. Gen Z seeks companionship, which makes sense. The levels of loneliness are highest in America right now. While digital media was made to keep us together, it has done the exact opposite."
This led to diving into a startling statistic from a 2021 study by the Survey Center on American Life on the state of American friendship. In 1990, 27% of Americans said they had three or fewer close friends. In 2021, nearly half—49%—claimed to have three or fewer close friends. The percentage of Americans that said they had no close friends quadrupled, from 3% to 12%.
When you begin to consider several pieces of information together—younger consumers choosing podcasting for companionship, the decline in the number of close friends, and the increase in the mental health category in podcasting—the role of companionship to reach younger listeners is evident.
PODCASTING'S WIDE-OPEN OPPORTUNITY
When talking about the diversity of younger consumers, Patel mentioned that over 50% of Gen Z and Gen Alpha are non-White, meaning an opportunity exists to deliver content targeted to these consumers. She believes earlier assumptions within the industry that Black and Hispanic consumers aren't interested in podcasting were fundamentally incorrect. "When we launched the My Cultura network, a slate of Hispanic-targeted podcasts, we learned one in three Hispanics who had not given podcasting a shot said it was because there wasn't content relevant to their interests. It wasn't a discovery problem, it was a content problem."
THE INTIMACY OF AUDIO
Ask Hetal Patel about video's role in podcasting, she'll tell you she certainly sees one, but what you'll really unlock is her love of audio. The key for the industry, she believes, is recognizing what makes it so special.
She asked me, "When was the last time you watched TV without a cell phone in your hand?" Long pause. "Point made."
"When was the last time you listened to a podcast while focused on your cell phone?" "Point made."
"The engagement, the curiosity, demands the listener commit to it."
AN EXTRAORDINARY SHOW
When Patel told me that she started watching Korean TV and cinema during the pandemic, I had to ask if she'd seen "Extraordinary Attorney Woo," a Netflix show I happened to have just started watching a few weeks ago and am in love with. Her face lit up.
We love the show for similar reasons. The South Korean show is about an attorney with autism but connects on several deep levels. At its core, it is a show about inclusivity, kindness, warmth, and respecting others. It's one of the only shows she's comfortable watching with her 7-year-old, and we agree there's nothing like it on American television.
As she puts it, "When you see someone different, it's human nature to distance ourselves when we should be warm."
Funny how the conversation all fits in. Companionship, inclusivity, intimacy = extraordinary.