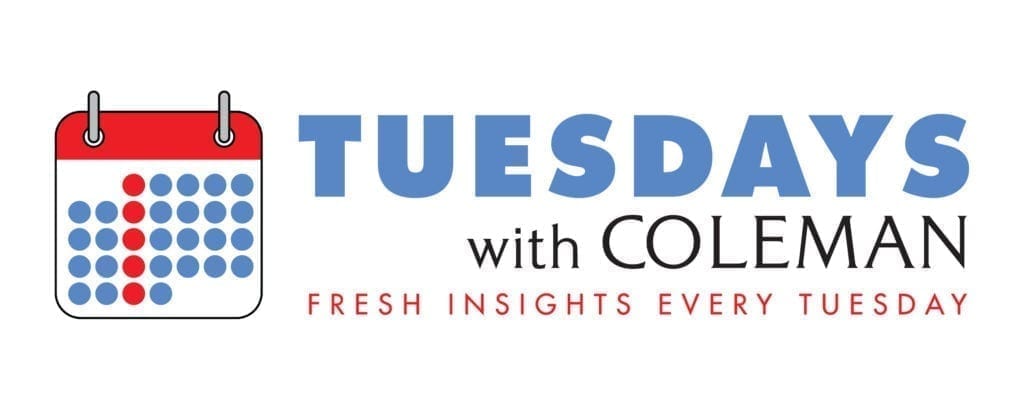 I'm a big believer that radio can benefit from conferences that are not completely radio-centric but feature beneficial and actionable sessions. One example of this is Digital Summit, which is held in 23 locations across the United States.
Coleman Insights HQ is in the Raleigh, North Carolina area, where Digital Summit's sister event, Internet Summit is held. In the past two years, this event featured marketing icon Seth Godin as the keynote speaker, and I wrote blog posts on both occasions. There was Seth Godin's Brand Lessons for Radio in November 2017 and last December's Direct Marketing is Easy. Brand Marketing is Hard, one of our most read and talked about Tuesdays With Coleman entries.
One session I attended (and hadn't originally intended to attend) was called "It's More Than Data: We've Been Doing Content Strategy Wrong," presented by Paxton Gray. Gray is the Executive Vice President of Operations at a digital marketing agency called 97th Floor. While the content of the session itself was useful and interesting, there were two other things that really caught my attention and made the visit to this room memorable.
Upon introducing himself, Gray offered the chance to win a copy of Seth Godin's latest book, "This is Marketing" (somehow it always comes back to Seth Godin) and a $100 gift card to an attendee who comments on his most recent LinkedIn post. The post was this:
There are a number of clever things about this strategy. Of course, I took the bait and went to his LinkedIn page, and before seeing the post I sent a connection request. Then I read the post, which tells you about a Book Club he started at his company. They buy a book for everyone at 97th Floor that wants one and sometimes discuss it over dinner. By asking for recommendations of books, podcasts or blogs, he's created post engagement and increased the chances of it going viral. So of course I plugged Tuesdays With Coleman, he engaged back right away, and then I didn't think about it for the next week.
That was until I opened my LinkedIn page to take a peek at my news feed, and guess what came up—a post from 97th Floor.
This one shared a picture of the company's recent Alumni Night at Topgolf. The post explains how 97th Floor alumni have access to an alumni network that includes a dedicated Slack channel that allows them to stay connected and share job opportunities. Once again, it's a post with a pretty good idea that promotes company culture without having to say, "Our culture is awesome!" (Sidebar: if that's how you promote company culture you might not have a great company culture.)
There are ideas and inspiration to be found outside the lines of where you've always expected them to be. So this year's takeaways for the radio industry are:
Attend a non-radio conference.
We love radio conferences, including the always great Worldwide Radio Summit. Radio is embracing Podcast Movement, a very wise move. But do you think radio could benefit from a conference like Digital Summit, which is loaded with sessions on items like website optimization, social media, SEO and email marketing?
I do.
Start a book club.
In our fragmented world (see last week's blog, Disney+, Decision Paralysis and Your Brand for more on fragmentation), we're all consuming different content. The thought of having programming and sales reading the same book, listening to the same podcast, subscribing to the same blog and then comparing notes feels like a good way to improve communication and learn some new things together in the process.
Embrace alumni.
While the idea of an alumni network may not be transferable, we do know radio loves a good reunion and that listeners build connections with personalities. Often their favorite personalities go away, never to be heard from again. By periodically embracing its past, radio can find another outlet to maintain the bond between listener and station.
Thanks to Paxton Gray for the inspiration for today's post. Keep those ideas flowing!