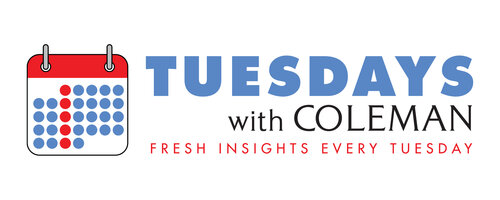 Regular readers of Tuesdays with Coleman may recall when we made a big deal about our introduction of CampfireSM Online Discussion earlier this year. This service, which allows us to deliver qualitative insights to the audio brands we work with, utilizes an innovative online platform through which we deeply engage with a group of carefully screened consumers over the course of a week. We have delivered numerous Campfires already this year and have been gratified by the positive reactions we have received from the clients who have used our newest service.
While Campfire represents an exciting innovation in the world of qualitative research, this blog is going to focus on one of the oldest tools in the researcher toolkit—focus groups. The COVID-19 pandemic has prevented us from doing any of our 20/20 Focus Group studies for clients over the last 18 months, and even with a great new tool like Campfire available to us, I still think there are insights that only focus groups can deliver. My hope—obviously for many reasons besides this—is that it will be safe soon to gather consumers together to talk about the audio brands they consume and delve into the emotions that are the drivers of their behaviors. Focus groups have been derided by many for being "old school," prone to the biases of those who moderate them, and far too often being driven by one or two participants who dominate the conversation and influence the softer-spoken attendees. Yes, they have been around a long time, but when they are moderated by someone who has been trained properly, they can unearth things that no other form of research I have seen in my nearly 35 years in this business can find.
One of my favorite focus group stories is truly old school; more than a half-century ago, General Mills learned via focus groups that their new line of Betty Crocker cake mixes was not selling well because homemakers felt guilty about how easy they were to use. When, based on that qualitative insight, the product was changed so that instead of just requiring the addition of water, the mix required that consumers also had to add eggs, the sales took off and the product became a staple of American kitchens.
A few years ago, I attended focus groups moderated by a colleague of mine for a Hip Hop station that was curious about a new sound that seemed to be testing well in their new music research. The clients and I sat with our mouths wide open behind the glass when we heard every Hip Hop fan in the group use a term to describe this genre that was clearly widespread "on the streets" but had not been heard by any radio programmers yet. By the next morning, there was imaging on the station using the term the focus group respondents taught us!
A few months ago, the Wall Street Journal ran a story, "Why Companies Shouldn't Give Up on Focus Groups"[subscription required], that echoed many of the themes I am sharing here. It spoke of how in the rush to embrace big data—which, in many cases, can be very valuable—many large companies ended up looking the same and offering similar products and services because they were relying on the same input, behavioral data. The parallels in the audio business are looking at metrics such as Nielsen ratings, podcast downloads, and streaming channel user counts and trying to strategize based on the same data that everyone else has. In the WSJ article, a branding consultant named Martin Lindstrom, who has worked for firms ranging from Lego to Burger King to Swissair remarked, "The few companies that decide to go the opposite way of looking at the qualitative data, the small data, time after time discover insights which lead them to something profound, and that's where you have true innovation take place."
While the term "in these unprecedented times" is drastically overused these days, I can not imagine a time when the kinds of qualitative insights focus groups provide could be more useful. Another compelling quote in the WSJ article concerns the impact of the pandemic on consumers and how "It cannot be understated what a big shift has occurred. Companies should understand and study that because we've been altered in a way that is pretty profound." The article goes on to state that "adapting to that new reality will require understanding the relative depth of people's fear and fatigue. And that can't be found on a spreadsheet." The way people consume audio—which was already undergoing changes that were accelerated by the pandemic—is changing so dramatically that we need all the qualitative tools at our disposal to grasp the implications of these changes.
Focus groups are hard; they are also time consuming and expensive. Our Campfire Online Focus Groups provide an easier and somewhat less expensive way to gather qualitative insights, and while I applaud the clients who have invested in such studies with us this year, I hope that many of them—and clients who have not done much qualitative work in recent years—recognize that focus group research should be in their plans as soon as it is safe for us to conduct such studies.
As one of my heroes, Ferris Bueller, memorably said,  Life moves pretty fast. If you don't stop and look around once in a while, you could miss it."