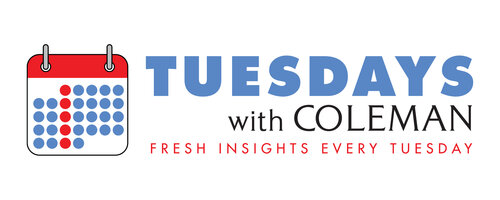 This week marks a full year since we debuted our CampfireSM Online Discussion Groups, and we have learned a lot through this new platform. For those of you not familiar with Campfire, it is a research tool that enables us to engage with listeners in an online community setting, probing deeply into brand perceptions and usage through direct questioning and discussions. The insights from these studies have been immensely valuable to our clients.
Coleman Insights has conducted Campfire studies on a wide range of topics since the launch of the service. We've studied heritage morning and afternoon shows that are striving to remain relevant, as well as authentic and new radio shows in development mode looking for a read on audience perceptions of cast members and the overall theme of the program. We've partnered with News/Talk stations looking for feedback on hosts, programs, and the best way to approach the news in this highly volatile political climate. And, we have studied the relationship between radio and digital platforms, looking for intel on how usage has shifted and why.
In honor of Campfire's first birthday, we present six of our biggest takeaways to share from these fascinating qualitative studies.
#1 Pandemic disruption to radio listening is a wash
At the beginning of the pandemic, we saw sweeping, overnight changes to Cume listening levels. And while we have seen a slow climb back to near pre-COVID levels, there is a general feeling that radio listening remains lower than before and that habits have moved away from radio due to workforce changes and the shift toward working from home.
Our 2021 Campfire studies have told a different story. Regardless of format and age target, we found that a majority of listeners feel they are listening to radio the same amount that they were prior to the pandemic. The small percentages of people reporting more or less listening generally attribute the change to their personal situation (e.g., "I can listen in the background all day now that I'm no longer in the office") rather than shifts in preference toward or away from radio. Perception is not always reality, but it is encouraging that most radio listeners perceive themselves to be just as engaged with radio as they were a few years ago.
#2 Younger listeners are much more sensitive to "noise"
Radio has been in the habit of creating an intro sound or jingle for each feature or show, while air personalities often use sound bites to emphasize something or to inject humor. These elements can create a vibe and add personality to a station but can also be distracting. The heavy use of production elements is also frequently heard in the commercials created for radio.
In our Campfire studies targeting younger listeners, one recurring theme has been the dislike of and lack of patience for these types of production "noise." In a world where consumers are also listening to digital platforms devoid of all but music and clean breaks, the excessive use of production elements can make radio can sound cluttered and dated.
Which leads me to number three…
#3 Radio, as a category has an age appeal issue
This may seem like common sense when talking to younger music listeners, but we've found that radio's age relevance challenges exist even with listeners in their 40s and 50s, including those listening to Gold-based music formats and/or spoken word formats. In study after study, we have repeatedly heard comments like "I listen to the radio, but I don't know that anyone else my age really does these days."
If so many radio listeners perceive that radio is for someone older than them and they are the lone person in their demographic still listening, what does that tell us? It means that radio managers must be sensitive to everything the stations they oversee—and the medium overall—do that make radio sound "old" and do everything they can to balance those components with relevant, timely content and production. See number four…
#4 Entertainment is king
Radio consumers are media savvy. They have a lot of choices when it comes to entertainment—audio or otherwise—and they know it. Because there are so many choices out there, radio stations cannot just go through the motions. Younger listeners are unimpressed with birthday callouts and A-Z games and want edge-of-your-seat entertainment. The title of Marshall Goldsmith's bestselling books—one of my favorite books on changing business paradigms—says it all: What Got You Here Won't Get You There.
The good news is…
#5 Listeners form deep relationships with the personalities and shows they connect with
We have conducted Campfire studies for a variety of music and spoken word stations and one thing that has been very encouraging across all formats is the depth of connection listeners have with the hosts and shows they love. The audience can describe in detail the overall theme of a show, the roles each of the cast members play, and the strengths and weaknesses of the hosts. This type of information cannot be gleaned from a quantitative study. Campfire has provided us with numerous opportunities to witness this depth of understanding and connection, as well as situations where audio brands, shows, podcasts, etc. fail to achieve the necessary levels of engagement.
#6 Awareness is radio's greatest foe
This last takeaway is from both our Campfire studies and many Plan Developer strategic studies conducted in the past year and piggybacks on my first point. While radio listeners believe they are listening just as much as they were pre-pandemic, there has been a general softening of recall overall—recall of stations, morning shows, talk show hosts, etc.—in this time of COVID.  That may be because consumers have a lot on their minds; rules are changing every day and their lives are in a constant state of upheaval. But it also has a lot to do with branding and marketing. In hectic times such as these, audio brands need to send loud, clear messages about who they are and what they offer. Radio won't grow more listenership from those already listening; there are too many other platforms out there competing for consumers' time. Radio stations and other audio brands need to reach out to those people in their target audiences who like what these brands have to offer but that have no idea they exist.
I'm thrilled with the results we are getting from the Campfire Online Discussion Group platform and invite you to reach out to us about putting Campfire to work for you and your brands.