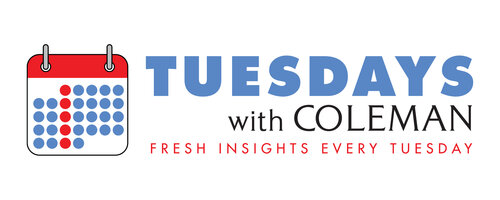 Trying to select a favorite Jon Coleman quote is a near impossibility. For over 40 years, our founder has imparted pearls of wisdom to the industry, to our clients, and indeed, to us. So, while picking a favorite may be somewhat akin to picking a favorite child, there is one Jon Coleman-ism that encapsulates much of the core philosophy of our company.
"Every song you play is a marketing decision."
That one sentence makes it clear that content isn't everything. Sure, you can play any song on your radio station. But should you?
That logic extends well beyond song exposure. Every piece of content you generate, in addition to how you verbally communicate it, reflects your brand. Whether you're playing a song, an imaging piece, an interview, or a contest, what you play sends a message. Those messages build images. The images can be positive or negative, crystal clear or confusing. That's why it's helpful to think strategically about every content decision.
This past Saturday night, I saw Tears For Fears in concert, with Cold War Kids opening. From the moment the show was announced, the oddity of that combination struck me. Tears For Fears had their last Top 10 hit in the United States in 1989. Nathan Willett, the lead singer for Cold War Kids, was eight years old at the time.
If you strategically consider why a band best known for 80s Pop might choose a band best known for newer Alternative to open for them, consider Tears For Fears' setlist on the tour. Six of the ten songs on their new album, The Tipping Point, are played, comprising a third of the total songs on the list. By including a younger contemporary band on the bill and including a large percentage of newer songs in the show, Tears For Fears make a statement: "We're not a nostalgia act."
Would the show (which had many layers of empty seats) have sold better if Howard Jones, The Human League, or A Flock Of Seagulls opened? Maybe. Will a large number of people ever see Tears For Fears as anything but an 80s band? Maybe not. But selecting Cold War Kids as the opener was almost certainly no accident or afterthought. That's a strategic decision, designed to project an image.
Tears For Fears is hardly the first band to adopt this strategy. The Rolling Stones have been doing it their entire career. In the 90s, when Mick Jagger was in his 50s and the band attempted to stay relevant, opening acts included Stone Temple Pilots, Lenny Kravitz, and the Red Hot Chili Peppers. Black Eyed Peas opened in 2005. Kanye West opened in 2006. Nathaniel Rateliff in 2019.
U2 was seemingly obsessed with not being seen as a nostalgia band until recently, when they warmed up to a Joshua Tree anniversary tour and upcoming Achtung Baby anniversary series of shows in Las Vegas.
On the other hand, Seal is on tour with The Buggles, selling a "Greatest Hits" setlist. Barenaked Ladies' umpteenth version of their "Last Summer On Earth Tour" features openers including Del Amitri, Semisonic, and Five For Fighting, all bands that had hits around the same time as BNL, with similar sounds and higher potential fan compatibility.
This isn't to say any one of these strategies is better than the other. It is to make the point that, as Jon says, "Every song you play is a marketing decision." Every content you generate is a marketing decision. Every message you promote is a marketing decision.
Always think strategically about your music. Your content. Your messaging. Is it consistent with what you want to communicate about your brand and the images you want to build? If it is, move forward. If not, take a step back and evaluate.
Utilize research to determine which images you own, and track perceptions as you build the ones you want and attempt to shed the ones you don't.