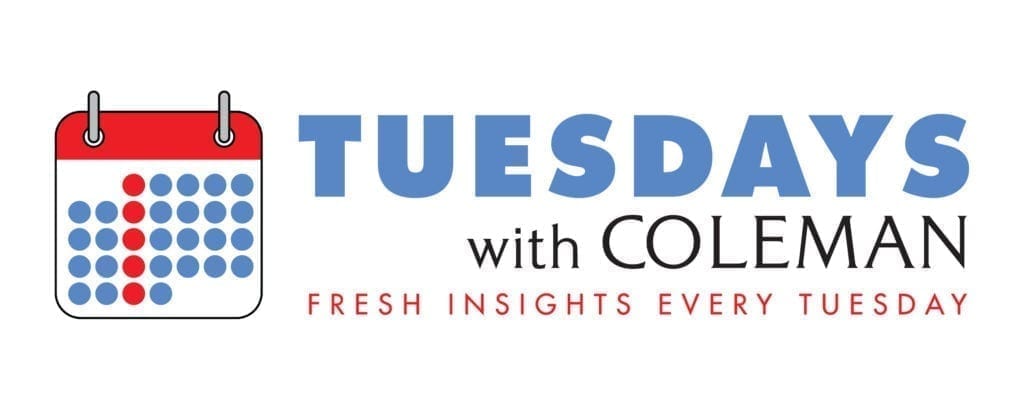 Regular readers of Tuesdays With Coleman and loyal Coleman Insights clients know of our affinity for Outside Thinking, the ability to look at any business, product or service from the perspective of its customers or users. Furthermore, those of you who have listened to my colleagues and I espouse on Outside Thinking know that understanding the obstacles that often prevent businesses from communicating what they stand for and offer is vitally important. One of those obstacles is the concept of "Too Many Messages." When brands—through their product, advertising and other communication efforts—communicate multiple messages about what they stand for, the result is a lack of consistency in the messages that get through to consumers.
A few years ago, my colleague Sam Milkman ran into this guy:
Even though Sam didn't know him, he begged him to let him take his picture. Why? Because the radio station t-shirt he is wearing is one of the best examples of violating the Too Many Messages rule we've ever seen. The shirt inundates anyone who sees it with at least three major things it wants you to know about the Magic 101.7 brand: (1) it plays "Continuous Lite Rock," (2) it features John Carter's morning show and (3) it offers "the no-repeat workday."
The point here is that this guy in the t-shirt could have walked past many people the day he wore it, and if we polled those people afterwards, each of them would have taken away different perceptions about Magic 101.7. Some would just remember the brand name, some would recall the kind of music the station plays, some would retain John Carter's name and some would think about the station's no-repeat workday feature. Very few of them would retain all four messages and the overall population of people exposed to the shirt would remember inconsistent mash-ups of the various messages.
Despite our efforts to discourage breaking the Too Many Messages rule, we see radio stations and other businesses do it all the time. Why? We can chalk up some of it to human nature; when advertising budgets are tight and you get that rare opportunity to tell consumers about your business, you want to tell them as much about it as you can. However, I think it mostly happens due to a lack of strategic thinking and understanding of how consumers' brains process information. It probably also happens because some people just don't buy into the Too Many Messages rule. I'm sure the Inside Thinker who designed the t-shirt above concluded that it wasn't too complicated and that consumers would "get it."
Fortunately, we have proof that consumers don't get it via recent research from Millward Brown, a subsidiary of Kantar, the global research behemoth. Millward Brown's specialty is measuring the effectiveness of advertising and they offer their clients a service called Link™, which measures how consumers respond to advertising copy across many dimensions.
Using Link, Millward Brown was able to determine how well ads featuring multiple messages manage to get any single message through to the consumer. As the accompanying graph reveals, not very well. Even by adding a second message to an ad, the likelihood that consumers take away either of them drops from 100% for a single-message ad to only 65%. By the time fourth messages are added to ads, the best likelihood of a message getting through to consumers drops to 43%.
What does this mean for your business? It means that you should focus on the most strategically-important message to get across to your target audience to the greatest extent possible. If you're in radio, this should flow from knowledge you have on the state of your station's Image Pyramid and which layer is most in need of development. If your music position needs development, focus your advertising solely on the music you play and resist also promoting your morning show or another benefit listening to your station offers.
If you're trying to grow the audience for a podcast and you believe—as most research in the podcasting space has confirmed thus far—that there's a large untapped audience consisting of people who aren't aware of your podcast, keep the message focused on the "elevator pitch" for your podcast and don't spend a lot of time explaining all of content elements of the show. If you own a hot dog stand that recently expanded its menu to include bratwurst, don't advertise the addition of bratwurst until you know that your image for hot dogs is strong enough to support the development of imagery for other items on your menu.
I should stress that this applies well beyond what you do with your advertising, especially if you are in radio. Think about the messages your listeners are exposed to when they tune in to your station. Are they focused on helping your station develop the one image that is the next step in the construction of your Image Pyramid, or do they hear a music image promo in one break, followed by a promo for your morning show in another break, followed by another break in which your air personality encourages listeners to visit him at the station's tent at the upcoming community festival downtown?
When he portrayed Curly in the classic 1991 movie "City Slickers," I doubt Jack Palance thought his "secret of life" would apply to the "Too Many Messages" rule. My take? Nearly 30 years later, Curly's recipe provides good marketing advice: