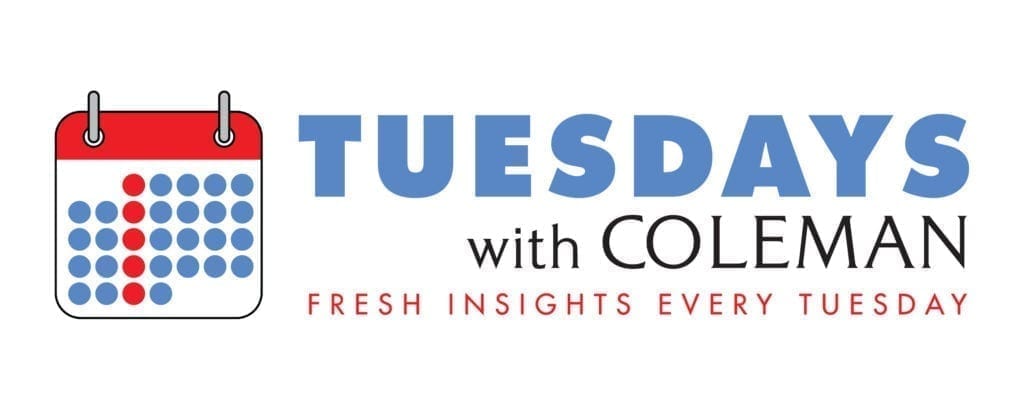 A common theme in this blog is how brands should learn as much as possible about what its consumers expect from them and—if those expectations are in line with what those consumers want—deliver on those expectations as often as possible. I like to think that we've done that since launching Tuesdays With Coleman more than two years ago. The audio entertainment industry professionals who come to our blog expect us to deliver insights into trends in marketing, branding and the consumption of radio, podcasts, music and streaming audio.
For our last installment of Tuesdays With Coleman in 2019, however, I am going off-brand to discuss something very different: corporate responsibility. No matter where you stand on the political spectrum, there is little denying the polarized nature of our society and the increasing difficulty with which governments—here in the United States and elsewhere around the globe—can get things done and improve the lives of their citizens. It is easy to sit back and lament that fact by complaining on social media and blaming others for this predicament; the hard work is doing something to help communities and the needy.
In August 2018, Coleman Insights announced that it was joining Pledge 1%, a global movement by companies to integrate giving into their DNA. Specifically, we pledged to donate 1% of our profits, 1% of our employees' time and 1% of our services to community and charitable organizations. Since we started this initiative, we have donated thousands of dollars and our employees have given hundreds of hours to a wide array of organizations that help people in need and make our communities stronger. We even delivered a research project on a pro bono basis to a college radio station so that the students could get "real world" exposure to the process before pursuing careers in media. To learn more about our Pledge 1% efforts, I encourage you to visit the page devoted to them on our website.
I was inspired to send our company in this direction by Marc Benioff, the chairman and co-CEO of Salesforce. Coleman Insights uses Salesforce to drive many of our business operations, and while the decision to use their products and services was initially made because of the value we thought they would deliver to our business, we are incredibly loyal to Salesforce and continue to increase our investment because of the company's commitment to giving back. Marc wrote about this in an excellent New York Times Opinion piece in October, and even if you do not agree with his politics, I challenge you to not admire the man for his commitment to philanthropy and equality for all.
Much like how Marc writes about how companies can be more successful by engaging in activities that help their communities and by providing equal opportunities for their employees, we are feeling the same kind of impact at Coleman Insights. Thanks to a solid economy and strong commitments to research-based strategies by our clients, I am happy to report that we have achieved strong financial results while also taking our Pledge 1% game to a high level. In other words, we are doing well while also doing good.
Why am I making this the subject of our last blog of the decade? Please be assured it is not to pat us on the back; instead, I have two goals. First, I want you, our readers (and many of whom are our customers) to know as much about us and our values as possible. If working with a company that is committed to giving to those in need is important to you, I hope we can enjoy a productive business relationship in the future. Second, and far more important, I urge you and the companies you work for to take a close, hard look at Pledge 1% or other models of giving to the communities you serve. If we all spent a little less time fighting over how to help people and improve society and more time doing the work required to make things better, the 2020s will be a little brighter than the 2010s.
On behalf of everyone at Coleman Insights, I wish you a happy holiday season and a safe, healthy and peaceful New Year. Tuesdays With Coleman will return on January 7th with our "regularly scheduled programming!"