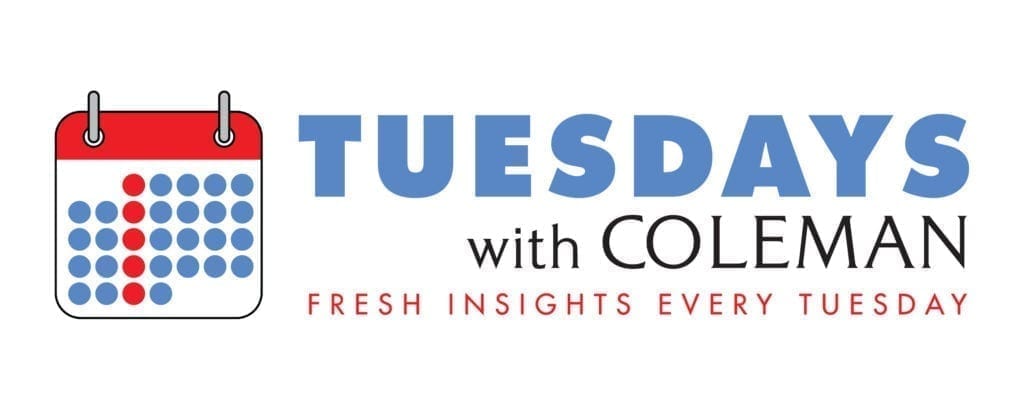 If you read the last two installments of Tuesdays With Coleman, you are aware of the brand-building challenges that exist in the podcasting space. Two weeks ago, I wrote about how Joe Rogan is the biggest brand in podcasting, but that only 14% of monthly podcast listeners are aware of him on an unaided basis. Last week, we revealed new podcast research that indicated none of the top 20 most-listened-to podcasts are familiar to at least half of all monthly podcast listeners.
None of this is terribly surprising given the nascent and highly fragmented nature of the medium. Nonetheless, for any podcast that seeks out mass appeal success, building a brand is a necessity.
Fortunately, there is a route to building strong podcast brands, as my colleague John Boyne and I shared in our "Outside Thinking for Podcasts" presentation at last week's massive Podcast Movement conference in Orlando. The first step on that route is to recognize that if you are engaged in podcasting, you need to go beyond content creation and think like a marketer. If you do, you will take an Outside Thinking approach to the medium and recognize that (a) you must teach people about podcasting, (b) combining great content with strong branding is crucial for success and (c) such success is not measured by download or listener counts but by having satisfied listeners.
This means that you need to go beyond telling listeners, "Download wherever you get your podcasts," and be more specific about where they can get your content. Your podcast's website should go beyond that and provide step-by-step instructions for finding, downloading and listening to your podcasts.
Here are seven ways to build your podcasting brand:
Have your elevator pitch down.
If you can't succinctly articulate what your podcast is about, why people should listen to it and what differentiates it from other podcasts, it will be very difficult to build a brand. Once you do have that pitch, be sure to communicate it frequently, even to your existing listeners.
Another way to think like a marketer is to:
Give your podcast a memorable name.
Your podcast needs to stand out among the more than 700,000 active podcasts competing for listeners' attention. Does your podcast have a name that is searchable and memorable? If not, change it.
Building a strong brand also necessitates taking advantage of the fact that podcasting is an aural medium; great audio brands have their own unique sound and feel. Some of the best ones:
Use jingles and other mnemonic devices that help consumers remember them.
Beyond jingles and mnemonic devices, there are things you can do with your podcast's content that help with brand building. One is:
Utilize a consistent structure.
This is important because meeting consumer expectations is crucial to building a brand, a reality for virtually every category of products and services. Examples of such consistency include making sure that your podcast follows a regular release schedule and having the flow of your podcast's content follow a similar pattern with each episode.
Taking this a step further, your podcast should:
Utilize benchmarks, recurring segments or features.
Think along the lines of David Letterman's signature "Top Ten" lists or Jimmy Fallon writing "Thank You Notes" every Friday night.
Another content-based practice that helps with the brand building process is to:
Make sure your topics are on target.
The topics you cover on your podcast should be not only of interest to your target audience but also aligned with what they expect from you. This does not mean that you can never deviate from those expectations, but when you do, you better make sure your content execution is outstanding.
Finally, we should not ignore that even if you think like a marketer and have all these things—a strong elevator pitch, a searchable and memorable name, mnemonic devices, consistent structure, benchmarks and on-target topics—your podcast's ability to build a strong brand will require that you:
Advertise your podcast.
Don't despair, however, if your budget won't allow for billboards in Times Square or television spots during the Super Bowl. A good marketer recognizes that there are many ways to get the word out about a product or service beyond traditional media advertising, with social media (paid and organic), being promoted on other podcasts, endorsements, cultivating reviews, your own website, search engine optimization, content marketing and public relations all representing other options for building a brand.
If you weren't in the audience in Orlando (or you loved our presentation so much you want to see it again!), I'm happy to announce that Coleman Insights will host a free webinar at 2:00 PM EDT on Thursday, September 12th, when John and I will re-present "Outside Thinking for Podcasts," which will cover many of the suggestions above in more detail. Click here to sign up for the webinar today!