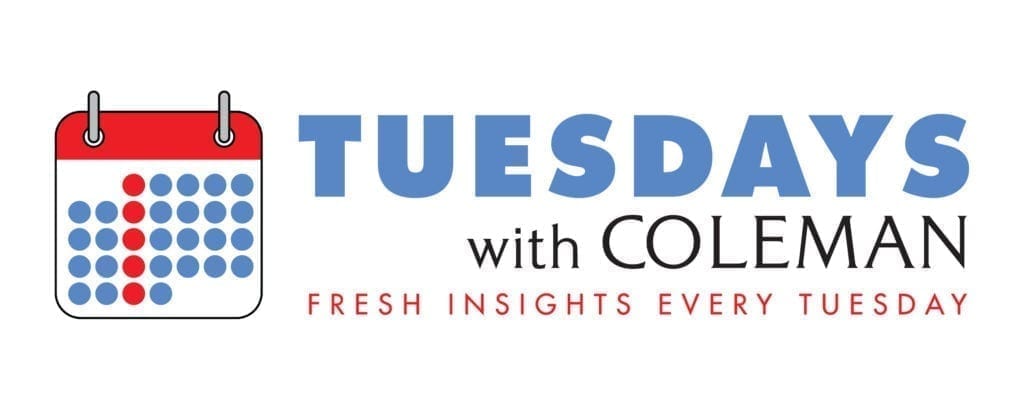 On October 10, 2017, we started our Tuesdays With Coleman blog series as a way to share branding, content and research strategy. Last week's entry, "Seven Solutions for the Podcasting Brand Challenge," was the final of three consecutive blogs about podcasting, centered around the increasingly popular Podcast Movement conference in Orlando.
It was also our 100th Tuesdays With Coleman blog.
We love a good benchmark, and 100 blogs feels like an opportunity to look back and mine some nuggets from the past couple of years. Since 100 quotes seems excessive, here are 10, curated from a wide range of topics, strategic advice and members of our team.
"We sometimes get too close to the product for our own good, and are unable to see it through the lens of our customers."
Warren Kurtzman, in "Is Inside Thinking Blurring Your Strategic Vision?" explains the Coleman Insights principle of Outside Thinking and how to achieve results by changing your mindset.
"If Bill Belichick showed up to a station remote, what would he think of a station banner hastily hung behind a bored jock eating a cheeseburger?"
One of our most-read blogs, "What if Bill Belichick Programmed Your Radio Station?" features Jon Coleman imagining New England Patriots head coach Bill Belichick as a radio station program director.
"We've all become so hyper-focused on the now, the instant gratification of numbers, that it is easy to take your eye off the big picture."
After attending a talk by marketer Seth Godin, I wrote "Direct Marketing Is Easy. Brand Marketing is Hard" to reinforce the value of brand marketing, despite its lack of trackability.
"The Trader Joe's lesson is that you beat a leader not by being better. You win by finding the inherent weakness in their strength and creating your points of differentiation."
In "The Branding Genius of Trader Joe's," Sam Milkman explores why Trader Joe's is so profitable in an industry with traditionally low margins and how to apply the lessons to your brand.
"TV is looking for talent in new places and banking on that talent. Why can't radio?"
In "When it's Time to Hunt (for Talent), Go Outside," Jessica Lichtenfeld makes the case that radio should look outside the industry to find fresh, new, memorable stars for the medium.
"Don't confuse the lack of 90s music exposure with the desire for hearing 90s music."
In "The 90s Music Research Conundrum," John Boyne explains how compatibility, not appeal, influences 90s airplay on many Adult Contemporary and Classic Hits stations.
"It's possible while you're programming on intuition alone, your competition is making data-influenced decisions."
In "How Research Won The Super Bowl," Sam Milkman debunks the myth that Philadelphia Eagles head coach Doug Pederson was a crazy risk-taker in winning the 2018 Super Bowl, when in fact he used a combination of research and instinct to take down the Patriots.
"There are a few iconic brands in every category and there isn't much changing going on."
In "Don't Change Your Radio Station," I explain how the instinct to "freshen things up" can be detrimental to brand growth.
"Chipotle doesn't sell pancakes. Hip Hop stations don't play Taylor Swift."
In "Should I Play That Song On My Radio Station," Jon Coleman warns that playing popular songs or even songs that test strongly on your station that don't fit your brand is a slippery slope.
"The ultimate success of the industry will depend on its ability to build brands."
Warren Kurtzman, in "Joe Rogan and the Podcasting Brand Challenge," writes that while producing great content is very important, listeners won't discover it if the brand isn't strong.
Thanks for reading Tuesdays With Coleman. If you haven't yet subscribed, we invite you to do so. If you have an idea for a topic you'd like us to cover, feel free to reply and let us know. It may just show up in one of the next 100 blogs.