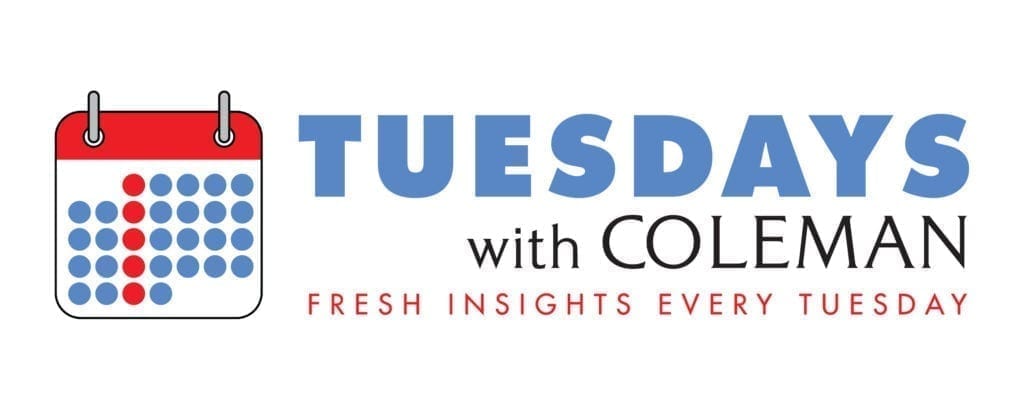 If you're a regular Tuesdays With Coleman reader, you likely consume large amounts of information like me. One of my favorite aspects of reading is encountering material that really hits home by reminding me of something I'm dealing with in my personal or professional life.
That was certainly the case two weeks ago when Politico ran a piece entitled "Pew: Phone Polling in Crisis Again," exploring the ramifications of the record low number of Americans willing to participate in telephone polls. This was followed last week by an excellent blog post called "Everything's Being Disrupted—Even Audience Research" by my friend and one of the industry's leading programming consultants, Fred Jacobs.
I won't regurgitate the two things I read; if you're interested in this topic in depth, I encourage you to follow the links to both provided above.
As you might imagine, I read both pieces thinking that someone was standing in my shoes for the last few years, as they described many of the factors that have resulted in dramatic changes in the business I oversee. Coleman Insights makes its money by advising clients on how to build strong brands and develop great content based on the consumer research we conduct on our clients' behalf. Quite simply, if we can't get consumers to share with us their opinions and perceptions, we don't have a business.
That's why we have radically changed the way we do most of the research we complete for our clients. All the music research we do—our FACT360SM Strategic Music Tests and the new music research conducted by our Integr8 Research subsidiary—is collected online from samples created through landline, mobile phone and online recruitment. Most of our Plan Developer strategic studies are based on ratios of in-depth telephone to online interviews that are appropriate for the goals of each project.
I am quite proud of what our team has accomplished in response to the disruptive forces reshaping market research, believing that we have been appropriately ahead of the curve without overreaching by using approaches or methodologies that are untested. When I read in the Politico piece referenced above that an organization as highly regarded as Pew is beginning to blend online and telephone interviewing, my pride in our organization grows further, as we began that process more than five years ago. I'll also add that we're not standing still; as I wrote in a blog last August, ten of us traveled to Canada to participate in a two-day summit devoted to data quality with our primary fielding partner and we are still working on initiatives that came out of that trip.
Whether you are a Coleman Insights client or not, I leave you with three suggestions about how to be an educated research customer:
Work with research partners who are "methodologically agnostic." The days of conducting all strategic research through landline telephone interviews and music tests solely in auditoriums are over, as there is no one right way to conduct research. Different segments of the population respond to opportunities to participate in research differently; the best research companies understand this and utilize multiple techniques to engage consumers. If a research company you're considering hiring makes claims like "no one uses telephone interviews anymore" or "online music research can't be trusted," end the conversation.
Simply moving online is far from a panacea. While there is little doubt that the ability to survey consumers online has revolutionized market research, it has also resulted in the creation of some truly awful research. That's because the range of quality in online research varies widely. Make sure that the research providers you hire to conduct research online utilize samples from only high quality sources.
Understand that research must be tailored for each collection platform. Take a moment and think about how you may word something in an email or a social media post and how you would do so differently if you were telling someone the same thing in-person or on the phone. That difference also needs to be reflected in how things are asked in telephone interviews versus online questionnaires. When you hire a research company that utilizes multiple methodologies, make sure they have the expertise to design surveys for each platform they may use for collecting data.
If you grew up in the New York area in the 60s and 70s, you'll recall an advertising campaign for Syms, a men's clothing store chain, that featured the legendary tagline, "An educated consumer is our best customer." Those seven words are just as true today when applied to the fast-changing world of market research.