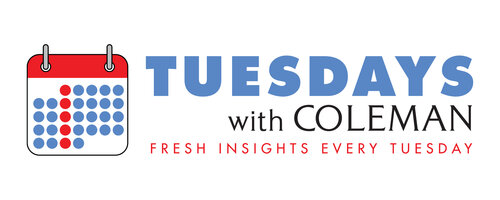 Let's say you're responsible for overseeing a brand. If something is not working, you add something to make it more appealing. Right?
If something is working, you add more things to make it even better. Right?
We've addressed this instinct of addition a number of times in our Tuesdays With Coleman blogs. In "Too Many Messages," Warren Kurtzman illustrated how adding messages to advertisements lowers the likelihood of remembering any single message from the ad. Jay Nachlis alluded to the explosion in entertainment options while quoting Jerry Seinfeld in "Lack of Focus=Lack of Greatness." HBO's ascent to juggernaut status happened by focusing on one great show at a time on Sunday nights, which Jon Coleman points out in "Can HBO and Radio Have it All?"
Now, there's new science to back up addition by subtraction. Inc.'s Jeff Haden refers to a new University of Virginia study that revealed when people attempt to improve something, they default to "additive transformations," while ignoring "subtractive transformations."
It's why a bar owner may think adding Taco Tuesday to his already loaded list of promotions will be just the thing to boost profit margins.
It's why software developers think adding more features will make their applications easier to use.
And it's why a radio program director may think adding more music or special features for the sake of quantity will result in more listening and higher ratings.
So, if we know that we're inclined to add to solve problems, what happens when we're prompted to subtract to solve the same problems?
When reminded they could remove items or elements, participants in the University of Virginia study were twice as likely to make subtractive changes than additive changes. And the changes were more effective.
Instead of considering what you can add to solve a problem, consider what you can subtract.
How would that focus your radio station's music message? Or your podcast's topic? Or one of your streaming service's channels?
The takeaway is the take away.