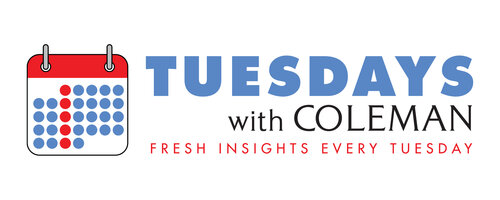 Tuesdays With Coleman, our blog that offers tips and insights on branding, content, and research strategy, is now four years old. Over the next four weeks, we'll reprint four blogs (one per year) that made the most impact through industry engagement.
This week, we'll start our celebration of the number four by presenting four of the most important questions that can be answered in perceptual research–a type of study we conduct often at Coleman Insights.
ARE CONSUMERS THINKING ABOUT MY BRAND?
Whether it's a radio station program director poring over ratings, a podcaster dissecting downloads, or a streaming service examining the subscribers of one of its channels, there is a big question that these numbers don't answer. When consumers choose an audio brand to listen to, is yours one of the ones they think of?
The measurement we use to obtain this information is called Unaided Awareness, and there's a reason it is one of the first questions we ask in perceptual research. The goal is to learn the first brands that come to mind in your listening universe. For a radio station conducting a perceptual study, for example, we may ask respondents to name as many radio stations in their area as they can remember, regardless of whether they listen to them.
When it's time to pick an audio brand to listen to, your target consumer is only thinking of three or four at any given time. How can you generate significant listening numbers if your brand isn't one of those top-of-mind few? It's no different from the exercise your brain goes through when you pick a restaurant to take a friend to lunch. If the restaurant isn't top-of-mind, you're probably not eating there. Radio is at a further disadvantage here, because while a consumer may use a tool like Yelp or Google to discover a restaurant or Apple or Spotify to discover a podcast, radio discovery tends to be more organic or reliant on paid marketing.
WHAT IS MY BRAND KNOWN FOR?   
In August, Sam Milkman's Tuesdays With Coleman blog "I Can Tell You How Healthy Your Brand Is With One Question" took a deeper dive into the "first thing that comes to mind" philosophy. Not only should your brand be top of mind, but your listeners should also be able to explain what your brand represents in a few words. "That station plays hit music." "That station plays New Country." "That station plays Hip Hop." "That podcast is about serial killers."
It seems simple, but you may be surprised how often listeners are either not able to answer the question at all or think of your brand for other things first. For example, listeners may think of your station for playing the most commercials or having too many contests before they think of it for its music or talk position. It's a challenging but correctable problem, but research can pinpoint where the issue is.
AM I PLAYING THE RIGHT MUSIC?
For music radio stations, there is often no more important question than this but there are many ways to approach it. 1) Are you playing the most popular music? Not just with your current listeners; are you playing music that's popular enough to attract new listening or have you maxed out available audience with the styles you currently play? 2) Are you getting credit for the right music? Are listeners thinking of your station for the music you play or is another station getting credit? Are they thinking of you for styles you don't want to be associated with? 3) Do the music styles I'm playing work together? The reason why Pandora picks the next song for you and Spotify curates personalized daily mixes are not by chance. They are highly data-driven algorithms based on your music preferences. Radio stations can have a similar advantage by using Compatibility data to learn which styles are more likely to create tune-ins and tune-outs when played together.
HOW POPULAR ARE MY PERSONALITIES?
Just as it is important to have a baseline of Unaided Awareness to learn how many consumers are thinking about your brand, it is also helpful to know how familiar your key personalities are in the market. In a Coleman Insights Plan Developer study, respondents only evaluate a personality if they have heard of them. Thus, you can see which personalities may not be very well-known but show a great deal of upside with a positive evaluation. Or vice versa, a personality that may have challenging evaluations that need to be addressed and coached.
While every perceptual study is customized based on the issues and challenges germane to each specific brand, these four important questions are the backbone of a great many of them and provide the stepping stones to actionable strategic plans.
From all of us at Coleman Insights, have a very Happy Thanksgiving. Next week we'll begin sharing the most impactful blogs from the past four years – starting with 2018.