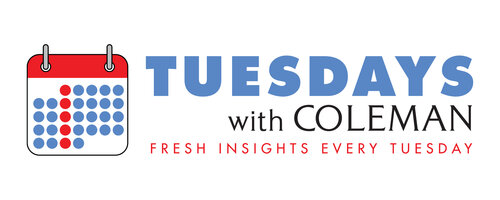 In late 2017, Coleman Insights introduced Tuesdays With Coleman, a weekly blog series offering tips and insights on branding, content, and research strategy. Using a combination of Google Analytics and reader engagement, we're spending the next few weeks presenting the most impactful blogs of the past four years by reprinting one blog per year. Many of the themes are timeless and worth revisiting. Unsurprisingly, the first blog was authored by Coleman Insights founder Jon Coleman, the scribe on two of the four.
Here's 2018's featured blog from September 25th of that year. In this blog, Jon uses concepts such as Outside Thinking, the Brand-Content Matrix, and the introduction of the Acceptance-Fit Matrix to explain why a song's popularity isn't a good enough reason on its own to play it.
"Should I Play That Song On My Radio Station?" by Jon Coleman
For radio program directors, the question of which songs to play and which to leave out is as old as the medium itself.  If it was only about playing popular songs, radio stations would be broader than they are.  Why is that?  Well, just like restaurants don't all serve the same popular foods and generally must choose what to serve, radio stations also focus on types, styles and eras of music.
Pizza Hut doesn't sell hamburgers. CHR stations don't play country.
Outback Steakhouse doesn't sell Chinese food. Rock stations don't play pop music.
Chipotle doesn't sell pancakes. Hip Hop stations don't play Taylor Swift.
These choices seem obvious, but are they always?  How can a program director think about what to play when consumers listen to popular music and music that seems right for the format?  How can they know when to stretch beyond the narrowest definition of their format?  When can they take chances and when should they play it safe?
Just as they choose restaurants and most brands based on simplistic image perceptions, consumers also select radio stations based on an image they have of that station.
As we've illustrated in our explanations of Outside Thinking, that image may be formulated based on Type (like Rock, Country or Hip Hop); Era (like 80s, 90s or 00s); or Texture (like Hard, Soft or Upbeat).
But in the real world, not every song a station plays will meet the pure definition of the brand it represents to its audience.
Sometimes, a program director will want to throw in a song just to "freshen things up."
Other times a song will reach such a high level of popularity in the zeitgeist, a program director may feel compelled to play it even if it is outside the format lane.
Program directors will fill their music tests with "fishing expeditions" to see what happens.
Every program director and music director is faced with the decision of whether or not to play songs on their stations and is left questioning if it was the right choice because of Fit.
So, when to play and when not to play?
Don Benson, the former President and CEO of Lincoln Financial Media, put it something like this:
You can be entrepreneurial in your own lane. You can't be entrepreneurial in your fringe lanes.
What Don means by that is your format lane gives you license to introduce your audience to songs and even sounds they haven't heard. When you play outside your lane, you risk losing listeners and may encourage brand erosion.
For most listeners, this isn't a conscious thought process. In the moment, if they really like it, a listener may sit through a song that feels out of sync with the brand and wait for the radio station to return to expectation. If they don't really like it, and it's out of sync, the listener is less likely to stay.
The real danger here is, if a station plays out-of-sync songs too often—songs that aren't consistent with its brand perception—the listener will lose confidence in the station's ability to deliver what the listener wants.
The Coleman Insights Brand-Content MatrixSM dictates that the success of great radio stations is the result of two dimensions. First, the station's brand strength—its top of mind awareness and perception. Second, its in-the-moment content strength—a function of how compelling the content is. The Brand-Content Matrix shows the most successful radio stations marry high-quality content with a well-established brand.
In many ways, the decision-making process on whether or not to play a song on your radio station can be handled in much the same way…using an Acceptance-Fit Matrix.
Ideally, your radio station will play a high percentage of songs that test well (High Acceptance) and fit your station's brand (High Fit).
But, there always will be moments of questioning.
In the late 80s and very early 90s, for example, pop music took a milder, less edgy turn. During this period, artists like Richard Marx, Mike and the Mechanics, Wilson Phillips and Michael Bolton topped the charts.
For CHR stations, playing too much of this fringe ACish sound risked undermining their brand expectation. The expectations were edgier and had more tempo. The center-lane pop was from artists like Michael Jackson, Prince and Madonna.
Stations had to be careful how quickly and deeply to move into the fringe sound—not just for fear of brand erosion, but also the risk of making themselves vulnerable to attack by more focused formats like Hot AC or edgier stations like Hip Hop.
As the Acceptance-Fit Matrix indicates, if a song is outside your own lane, it had better be exceptionally popular to play it.  A song that is exceptionally popular but not in the center lane is in the lower right quadrant. You may be able to get away with that. But, if it is only moderately popular it will be a tune out and will hurt your image.
Our recommendation is to evaluate every song in your library in terms of both Acceptance and Fit.
Aim for highly popular songs that are a great fit with your brand.
The less it fits your brand, the more selective you should be.
So when it's time to ask "should I play that song on my radio station?"
Be smart.
Be thoughtful.
Be strategic.
And, be entrepreneurial.
Just do it in your own lane.