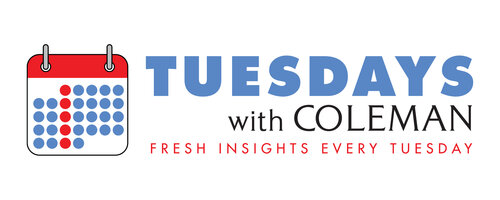 This week's Tuesdays With Coleman blog was jointly authored by Coleman Insights president Warren Kurtzman and Alan Burns & Associates founder Alan Burns. Details on a new webinar covering this topic and findings from a recent research project can be found at the end of the blog.
As covered in last week's Tuesdays With Coleman, a hot radio format from Canada—which Alan Burns & Associates has dubbed "Social FMTM"—has captured our attention, due to the greater emphasis it places on personality-driven content than most music stations. As a result, Coleman Insights and Alan Burns & Associates have collaborated on research on the format's successful music outlet, Now! Radio in Edmonton, even though the station is not a client of either of our firms. The research involved 100 18- to 49-year-old Cume listeners to the station to gather mostly open-ended responses to questions about the motivations for listening to the station and the perceptions they have of the brand.
Based on these interviews, we reached three primary conclusions:
Social FM is seen as a "hybrid" format. The format's outlets play a sizeable quantity of music that is complemented by foreground personalities and high levels of on-air interaction with listeners, and as a result, most listeners think of it for music and talk. Relative to the Image PyramidSM philosophy Coleman Insights has espoused for decades, this means that the format's base position consists of a combination of musical and nonmusical content, with the highest profile personalities providing a layer of personality on top of that base.
In the case of Now! Radio, we see this in the fact that the majority—55%—of listeners choose "both" music and conversations as their primary motivation for listening to the station. While those who do not say "both" are more than twice as likely to cite "music only" over "conversations only" as their primary motivator, the fact that both of these groups are smaller than the "both" group makes clear that the combination of these two forms of content drive usage.
In a similar vein, the majority—54%—of Now! Radio listeners mention music and conversations when asked to describe the station to someone who had not heard it before. This video provides a brief sample of listeners frequently referencing music and conversations when describing the station:
One final important note about the importance of communicating that Social FM stations offer music and conversations is revealed when we compare the motivators and perceptions of Now! Radio's P1 listeners versus non-P1s who also listen to the station. As seen in the two sets of bars on the right of the following graph, 70% of P1s answer "both" as the primary reason for listening to the station. Among the Other P1s we surveyed, however, music—at 52%—is the primary motivator.
This suggests that excluding or de-emphasizing music from how Social FM stations are positioned could significantly limit their Cume appeal and make them over-reliant on generating TSL from a small Cume base. In simplest terms, music brings in Cume and personality-driven content drives TSL.
Listener passion for the hosts is crucial to the success of Social FM. While Now! Radio is seen for its combination of music and conversations, there is no denying that the hosts and the conversations they have with each other and their listeners are very prominent in the perceptions listeners have of the station. In fact, the frequency with which listeners mention hosts in general or specific personalities in their descriptions of the station and the things they like the most about it is higher than we have seen for any other music station. As revealed by the listener enthusiasm expressed in the following video, stations seeking to offer Social FM must build lineups of highly compelling personalities to be successful:
Social FM is a Time Spent Listening-driven format. Now! Radio has led the Numeris Adults 25-54 ranking for 38 out of the last 40 quarters, and while the station has a sizeable Cume audience, its leadership is largely attributable to generating TSL from those who tune into it in the first place. We see this as well in our findings, as an impressive 56% of the Cume listeners we interviewed for this study name Now! Radio as their P1 station. Such a Cume Conversion Rate is well above the 40% benchmark Coleman Insights usually finds is an indicator of a station's ability to generate high listener loyalty.
To learn more about these and other findings of our research on Social FM, please join us for a webinar presentation this Thursday, June 2nd at 2PM EDT/11AM PDT. Free registration is now open here.