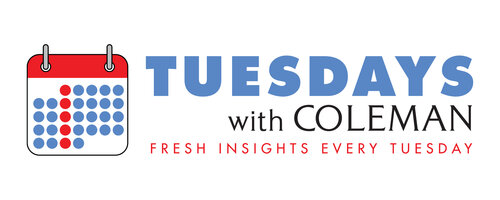 This week's Tuesdays With Coleman blog was jointly authored by Coleman Insights president Warren Kurtzman and Alan Burns & Associates founder Alan Burns. Details on a new webinar covering this topic and findings from a recent research project can be found at the end of the blog.
When you're a researcher or consultant to radio stations one of the most common questions you're regularly asked is, "What's the next hot format?" We admit this is often an impossible question to answer; listeners are fickle, and we often don't know when new trends emerge until we see objective evidence that they are taking hold.
However, we can state with confidence that there is a hot format—in Canada. Alan Burns & Associates is calling the format "SocialFMTM," as it features substantially more personality content than one typically hears on a commercial music format. That content is built around foreground air talents, extensive on-air audience interaction, and storytelling.
By far the most successful of the Social FM stations is "Now! Radio" in Edmonton. We know that—outside of the hockey fans among us—few Americans are well-acquainted with Edmonton, but the fact that this massively successful station is not known to most American radio broadcasters is astonishing. According to Numeris, Now! Radio has been the number one station among Adults 25-54 in Edmonton for 38 out of the last 40 quarters.
Now! Radio airs a Hot AC-oriented music mix that is broader—especially from an Era perspective—than most North American Hot AC stations. It is anchored by the wildly successful Crash & Mars morning show, while managing to play at least ten songs in most hours after the morning show is over, despite giving its air talents in all dayparts wide latitude for delivering personality-based content.
We want to be clear: Now! Radio is not a client of either of our firms. However, amid all the discussions currently taking place in the radio industry about the need for more nonmusical content on music radio stations, we are intrigued by its success. Both of our firms have consistently espoused the value of compelling, entertaining personalities for our music radio station clients, but as more consumers enjoy music on other platforms that often provide them with more control and commercial-free experiences, the need for radio stations to provide content that consumers can't get anywhere else is greater than ever.
Our interest in Social FM is also increasing because variations of the format have launched in other Canadian markets; the owners of the Edmonton station launched similarly formatted "Today Radio" in Calgary in 2019 and "Now! Radio" in Winnipeg in 2021, and another ownership group introduced the format branded as "Today Radio" in Toronto this past February. Despite their common ownership, the Calgary outlet carries the Crash & Mars show while Winnipeg does not, and the new station in Toronto is building its own airstaff. All four of these stations offer similar music, but there are nuances between the mixes each station employs.
It seems inevitable that radio stations in the United States and beyond will take a close look at Social FM. That is why we are excited to share with you a collaboration between Alan Burns & Associates and Coleman Insights to gain a deeper understanding of the factors that drive the success of this format. As Now! Radio in Edmonton is the bellwether for the Social FM format, we have recently fielded a research project conducted with listeners to the station designed to determine what drives them to use it and their strongest perceptions about it and how those drivers and perceptions may vary across different segments of the audience. Among other things, the research will help us understand if Now! Radio looks like most successful music radio stations from an Image PyramidSM perspective, featuring a Base Music Position that leads listener perceptions, complemented by strong personality imagery.
Next week's edition of Tuesdays With Coleman will feature a summary of our findings, including video clips of Now! Radio listeners sharing their opinions and perceptions of the station. Furthermore, we will offer a free webinar covering the findings of our research in greater depth on Thursday, June 2nd at 2PM EDT. Registration for that webinar is now open here; we look forward to sharing our insights with the radio industry and answering questions you may have about Social FM.