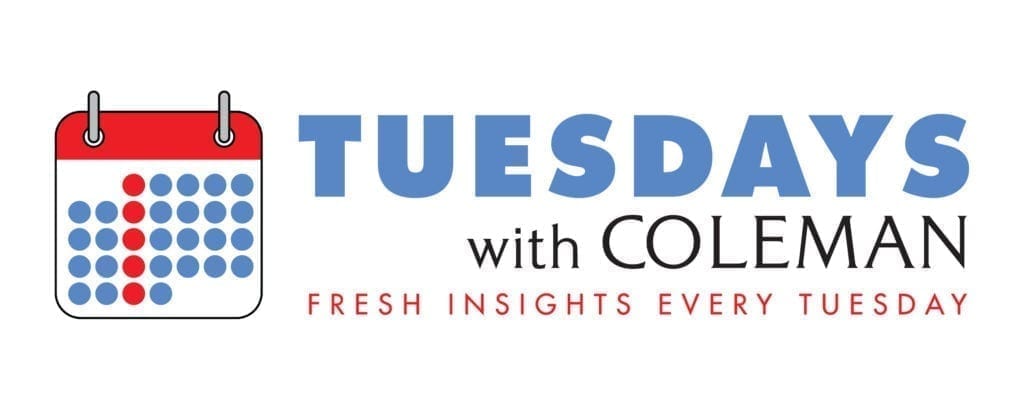 How predictable is your radio station? Have listeners "heard it all"?
That's not necessarily a good thing.
There's a region of our brain called Broca's Area, and it is known to have multiple roles involving speech production.  It turns out that another function involves surprise. When we're surprised, it triggers this part of the brain.
But Broca anticipates the predictable. It's the part of the brain that literally tunes out what it already knows and expects.
I once saw marketer Roy Williams, author of The Wizard of Ads, explaining the Broca lesson in terms of radio contesting. There was a time when winning 25 bucks was a big deal. Until listeners heard $100 given away, then $1,000, and so on.
Listeners had certain expectations for morning drive radio before Howard Stern. Howard shattered those expectations, thereby stimulating Broca's Area and becoming a superstar.
I recently visited a friend in Las Vegas and experienced an example of Broca stimulation.
Go figure, it was a billboard for a hospital.
Hospitals used to only run basic billboard campaigns. Name, location, specialization maybe. Picture of a patient. "The cardiovascular hospital."
Then, we saw billboards for emergency rooms with digital wait times.
Broca!
Now it's not quite as unusual to see those wait time billboards. Still neat and effective, but the element of surprise has passed.
The board for St. Rose Dominican Hospitals in Las Vegas does something I'd never seen before.
It welcomes new babies in real time.
The digital message I saw welcomed a baby by first name that was born 15 minutes prior.
The hospital is even using a mnemonic device in the labor and delivery unit itself—they play a lullaby throughout the entire hospital every time a baby is born.
They stimulate Broca with the billboard birth announcement and reinforce it in-house with the lullaby.
Have you been watching Jeopardy! lately? Lots more people have, because contestant James Holzhauer is currently torching records left and right.
He's a professional sports gambler from Las Vegas. Can't recall ever seeing one of those (at least mentioned) as a Jeopardy! contestant before.
He regularly goes all-in or heavily in on Daily Doubles, betting 10, 20, $30,000 or more.
Never seen that before.
He's broken the record for single-day winnings, then broke his own records. $131,137 in one game?
Never seen that before.
Jeopardy James is one big ball of Broca stimulation, and there are two ways to look at it from the show's standpoint.
#1, We're over budget!
#2, This guy is a marketing machine. It's been great for the show. There's great buzz. Our ratings are soaring.
I think the Jeopardy! folks are probably pretty happy right now.
Now, think about Broca's Area in the context of your radio station.
Before you do, be careful not to confuse Broca with message repetition. Your listeners lead busy lives, have short attention spans and are not paying attention to your station like you may think.
Therefore, repeating the same positioner over and over again is important. Running benchmarks at the same time has value. You may utilize a mnemonic device, like a jingle, sound effect or voice that listeners associate with your station. These help build images through repetition.
So, what can you do to stimulate Broca?
Stimulating Broca can be additive to images, like the ones we track in strategic perceptual research.
The hospital billboard and Jeopardy James create buzz.
Buzz builds top-of-mind awareness.
If you live in Las Vegas, maybe you're more likely to think of that hospital first—just as you're trying to get listeners to think of your radio station first.
You're very likely to think of them as the baby hospital, which I'm sure is an image they'd love to own.
But they simply could have put a tag line up on the board, right? "First for babies?" "The baby hospital?"
Would that build the image as fast as a real-time birth clock??
Sure, you can throw a tag line or an artist on a billboard. But I'll bet you can come up with something we haven't seen before.
And sure, Jeopardy James is lightning in a bottle. Contestants like him and Ken Jennings are once-in-a-blue-moon events.
But it is a reminder to seek out memorable talent and to find ways of presenting your product that the listener hasn't heard before.
And those repeating messages I mentioned? Just because they say the same thing doesn't mean they need to be presented the same way each time. When they are, they become wallpaper.
So think about your core messaging and the images you want to build with your listeners.
Think about all the ways you've relayed and presented the messaging up until now.
Then, think about the opposite. Something completely different. Something even you haven't heard before.
Broca (and your listeners) will thank you.