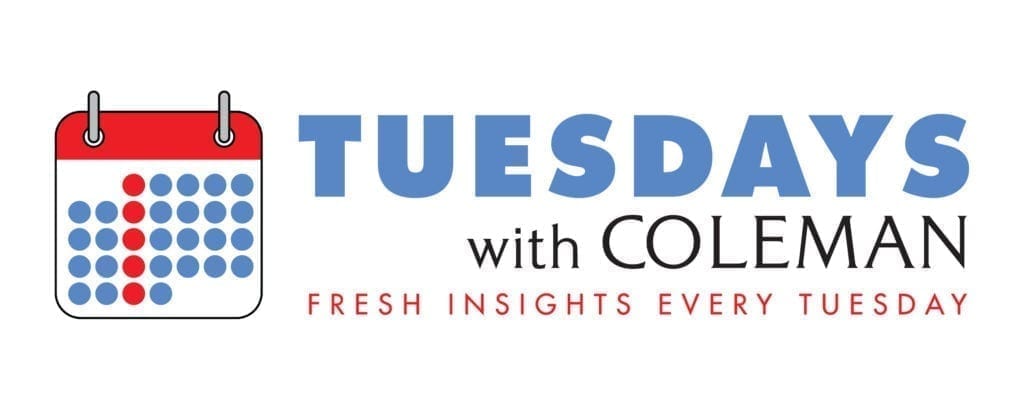 Coleman Insights is releasing findings from its Contemporary Music SuperStudy in a four-part blog series, followed by a free webinar on April 30th in which the findings will be covered in greater depth. Details to register for that webinar are below.
In the two previous installments of Tuesdays With Coleman, we shared two primary findings from our Contemporary Music SuperStudy:
1)            Hip Hop/R&B was the most consumed genre of 2018 and is the music style that invokes the most passion. On the other hand, Hip Hop/R&B is significantly polarizing.
2)            Of the six genres of music represented in our study—Hip Hop/R&B, Pop, Country, Alternative/Rock, Electronic/Dance and Latin—Pop is the one sound that is highly popular with fans of every other genre.
This week, we'll dig into demographics and reveal how age, gender and geography impacts music tastes. In addition, you'll see the difference between daily streaming listeners and daily radio listeners—a finding that will illustrate why the radio airplay and streaming charts look different from one another.
POP OVER-PERFORMS WITH ALL AGE GROUPS, WHILE COUNTRY AND HIP HOP/R&B HAVE HEAVILY SKEWED AGE APPEAL
As we illustrated in our previous blog, Pop is the "glue" of contemporary music. Pop over-performs with the younger and older listeners in our study. Although Pop makes up only 19% of the titles we tested, it represents 42% of the Top 100 songs among 12- to 34-year-olds and 37% of the Top 100 with consumers between the ages of 35 and 54.
The appetites for Country lean significantly older; in fact, only one Country song—"Meant To Be" by Bebe Rexha (featuring Florida Georgia Line), a song that clearly straddles the Pop line—finishes among the Top 100 titles with 12- to 34-year-olds. In the 35-54 demographic, however, Country is very strong, making up 37% of the Top 100 songs, much higher than the 21% presence of Country titles in the study.
Conversely, Hip Hop/R&B is much stronger with younger listeners than with older listeners. These titles represent 33% of the test list and slightly over-perform with 12- to 34-year-olds, making up 35% of their Top 100 songs. Among 35- to 54-year-olds, however, Hip Hop/R&B's Top 100 presence stands at only 7%.
Neither Dance/Electronic or Alternative/Rock demonstrates significant age skews with similar presences among the Top 100 songs with younger and older listeners. Latin titles are not significantly present among the Top 100 songs with either age group.
MEN MORE LIKELY TO LOVE HIP HOP/R&B, DANCE/ELECTRONIC AND ALTERNATIVE/ROCK; WOMEN MORE LIKELY TO LOVE COUNTRY
The most significant difference in contemporary genre appeal between genders is with Country. While Country represents 21% of the test list, it represents only 8% of the Top 100 with men. But Country actually slightly over-performs with women, representing 22% of their Top 100.
Hip Hop/R&B underperforms with both genders, while Dance/Electronic significantly over-performs with men and Alternative/Rock looks solid with men and women.
Which genre do men and women love equally? You guessed it…Pop. In fact, Pop's 41% and 42% presence in the Top 100s of men and women, respectively, is more than twice the 19% presence of Pop titles in our study.
HIP HOP/R&B, DANCE/ELECTRONIC AND POP OVER-PERFORM IN URBAN AREAS, WHILE COUNTRY DOMINATES AMONG RURAL CONSUMERS
Hip Hop/R&B shows the most passion with those who live in urban areas, and least passion with those who live in rural areas. Meanwhile, the appeal of Country is dramatically rural. Country represents 21% of the test list, but 36% of the Top 100 titles with rural residents. Dance/Electronic over-performs with urban and suburbanites. Two genres over-perform with residents of all three geographic areas—Alternative/Rock and Pop.
THIS IS WHY STREAMING CHARTS ARE SO DIFFERENT FROM RADIO AIRPLAY CHARTS
Programmers often ask us, "Why are streaming charts so different from radio airplay charts?" The answer is simple: Consumers who use streaming frequently are more likely to be big Hip Hop/R&B fans, while the appetite for Country music is much stronger among daily radio listeners than it is with those who use audio streaming every day.
This helps explain why there's so much Hip Hop/R&B and so little Country on the streaming chart.
Despite this finding, it is noteworthy that Pop is the only contemporary music genre that substantially over-performs with daily streamers and daily radio users. In comparison to the 19% presence of Pop titles in the study, they make up 43% of the Top 100 songs with daily streaming users and 40% of the Top 100 songs with daily radio listeners.
MORE FROM THE CONTEMPORARY MUSIC SUPERSTUDY
Next Tuesday, we'll reveal the Top 10 songs in our Contemporary Music SuperStudy. And of course, we'll also tell you which song brings up the rear.
We'll also demonstrate for you the huge contemporary music taste differences we observe between those who have positive opinions of Donald Trump versus those with negative impressions of the President. Don't fret, however, as there is hope in our finding that the same song is number one with Trump supporters and detractors. Check out our blog next week to learn what "the great unifier" is!
Register now for our Contemporary Music SuperStudy Deep Dive webinar, Tuesday, April 30 from 2p-3p EDT when we'll provide an extended version of our Worldwide Radio Summit presentation and further insights into the current state of contemporary music.