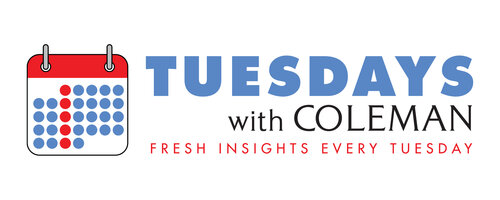 Like many companies when the COVID-19 lockdowns began in March 2020, Coleman Insights transitioned to a remote environment. The nearly 7,500 square feet of office space more than 25 of our employees (including those employed by our Integr8 Research "sister" company) had worked out of for years sat unused for months, including the new conference room with all the latest display technology we added to our office just two years earlier.
As I'm sure was the case for many others reading this, being away from the office gave me a weird feeling. Our team had worked hard to create a sense of "place" in those 7,500 square feet, and suddenly, that place that we spent so many hours in every week was no longer a part of our lives. It was unsettling, especially amidst all the other uncertainties that accompanied the pandemic.
Then, a funny thing happened—our staff adapted, and most found that not only were they more productive working from home, but they preferred it. That led me to decide that having a remote workforce permanently was the right move for us, and earlier this year, we successfully negotiated a lease termination with our landlord. As of October 1st, the only centralized physical presence of our company is in an office-sharing facility in Raleigh, where we occasionally gather for meetings and social functions.
The last few weeks before we moved out felt strange and elicited surprisingly emotional responses from many on our team, including me. We spent weeks selling and donating furniture and other office equipment—I'm proud to share that the 85-inch monitor in our conference room now hangs in the conference room of the Exchange Family Center, a non-profit our company supports through our Pledge 1% initiative, and that some public school teachers in our area have new desks courtesy of Coleman Insights—and seeing the dismantling of what we had built drove home for me that things were never going to be the same.
What we did at Coleman Insights was the right thing for us, but I acknowledge that moving to a remote environment is not for every company or every employee. Nonetheless, there is no denying that there has been a significant and likely permanent shift to working from home, and companies like ours are not alone in eliminating the requirement that employees come to an office or other jobsite every day.
This means that when, how, and where a sizeable portion of the target audience of your radio station, podcast, or streaming platform uses your brand has changed. That does not even consider how your target audience's tastes, needs, and what they are seeking from your brand have changed, even if many of those consumers have resumed the patterns their lives followed prior to the pandemic. In other words, if there was ever a time to conduct strategic research, it is now.
In a recent Plan Developer study we delivered to one of our radio station clients, we identified that the presence of radio listeners in the station's target audience who primarily worked remotely had doubled from 16% to 32%. Other estimates suggest that even as many companies have "returned to normal," the increase in the number of employees working remotely at least part of the time is substantial and likely permanent.
Even as many aspects of our lives have "returned to normal," things will never be the same as they were before 2020. Your target audience may be in different work situations, their commuting patterns may have changed significantly, and they have likely used the last two-plus years to sample new media in quantities never seen before. Their opinions on the world may have shifted, along with their music tastes. Perhaps most significantly, for many of those in your target audience, the number of shared experiences they have with others may have declined substantially, adding to an even more fragmented media landscape than existed before the pandemic.
If your radio station, podcast, or streaming platform has not updated its strategy based on new information on the behaviors, tastes, and perceptions of your target audience, you are likely falling behind competitors who have. While we may not be 100% past the pandemic as I write this, there have been enough permanent changes to the world your target audience lives in to make updating your strategic plan based on fresh data a necessity right now.