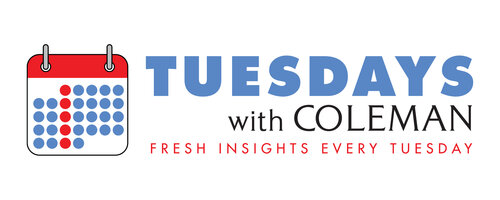 I was certain the first time I met Mike Couchman was a few months ago, at the premier conference for contemporary Christian Radio, Christian Music Broadcasters' Momentum conference in Orlando. But after listening to my recent appearance on the Sound Off Podcast and hearing about some of my radio stops, Mike recalled that I interviewed him and gave him a tour at WLLC (Alice 106.7) in Detroit. And although I didn't think he fit the station, I referred him to Tim Richards at WKQI, who hired him.
Small world, radio.
Today, Couchman is program director of the hugely successful Christian AC KLJY (Joy FM) in St. Louis, as well as KXBS (BOOST), a Christian Rhythmic CHR that is unlike most Contemporary Christian stations in 2022. Through a partnership with EMF, BOOST is now heard on signals in five markets in addition to St. Louis: Chicago, Minneapolis, Pittsburgh, Portland, OR, and Fayetteville, NC.
This is the story of BOOST.
Blue Ocean Strategy is a tactic brands take to create uncontested market space, capture new demand, and make competition irrelevant. In radio, where you often see multiple CHR, AC, Country, or Urban stations in a market, finding a Blue Ocean lane can be challenging. For Christian stations like Joy FM, there is a template most follow, and many do it very well. For Boost, Couchman is more like a mad scientist bringing pieces together to create a new formula, and one could certainly argue it's a formula rooted in Blue Ocean Strategy. There just aren't many Christian Rhythmic CHRs.
WHO BOOST IS FOR
Mike Couchman says his mom is super religious. "She would ground me for listening to N.W.A. and Marky Mark and the Funky Bunch." (Side note: N.W.A. I understand, but I think Marky Mark made it pretty clear he was drug free and put the crack up.) Couchman was up for listening to Christian radio, but felt there was nothing for him and he felt left out.
When Joy FM's parent company decided they wanted to launch a different format from their flagship AC, they had a few things in mind. Primarily, it should be young and multicultural. Couchman took that a step further. "BOOST should a) be Christian radio for Christians who don't vibe with traditional Christian radio. B) It should be a station for people who may not have much faith but feel Mainstream Hip Hop has gone too far for their tastes."
The process of picking a name for BOOST turned out to be deliberately Blue Ocean Strategy. Couchman says in a brainstorming call with a friend, voiceover talent Joe Szymanski, he laid out what he didn't want. A) A cliché radio name; and B) Something that told non-Christians they weren't welcome. If it reflected energy and positivity, even better.
THE JINGLE PACKAGE
It made the trades recently that BOOST debuted a new jingle package. Couchman nodded voraciously when I offered my opinion on jingles. "Perhaps the most underappreciated thing on the planet." (Read John Boyne's "The Case for Jingles" if you want more jingle love.)
And the process of finding the right jingle package? Blue Ocean. He told Dave Bethell at TM Studios what he wanted, but also what he didn't want. That included "Faith-based, but not religious." Here's the end result.
MEASURING SUCCESS
Blue Ocean Strategy isn't right for every station, and it involves an inherent level of risk. Launching a Christian format that brings in younger listeners with less disposable income and a more challenging path to ratings and revenue is not easy.
Though BOOST launched on a translator in 2014, it made the move to the larger 95.5 signal last year, right in the middle of a pandemic. You don't often hear a PD saying Nielsen accounts for only about 20% of how they measure success, but that's because they feel the goal of reaching untapped audiences is most important. Streaming numbers went way up when the station made the signal switch. A steady stream of listeners reaches out to the station unsolicited, telling them about the difference they're making. And Couchman says you can see the diverse audience at every station event.
The national study Meghan Campbell and I presented at Momentum, "How to Attract Millennials and Gen Z to Christian Radio," indicated a notable desire for Christian Pop and Hip Hop among listeners under 40. Awareness and finding the right formula is the logical next step.
Paraphrasing his boss Sandi Brown, he says "Joy FM is a freeway. A paved road where everyone knows where they're going. BOOST is being paved as we go and we're not sure where we'll end up."