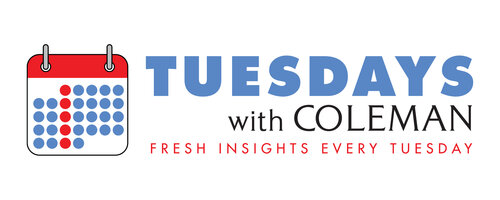 Today's Tuesdays With Coleman blog post features guest contributor Deena Hollander, President of Advantage Music Research. Coleman Insights and Advantage Music Research have a strategic partnership where each firm refers potential clients to the other when it is deemed the other's music testing offering may be better suited to a client's needs.
A friend from high school recently launched a new adventure in podcasting. Part of the iHeartRadio Podcast Network, Office Hours with Mike Steib features interviews Mike has with chief executives and leaders. I started listening to his first podcast, an interview with clothing designer Tommy Hilfiger, and right away I was enthralled. Tommy Hilfiger spoke about starting up a new company, how to keep a company relevant, as well as some marketing strategies.
As a recent entrepreneur, having launched Advantage Music Research eight years ago, this interview really resonated with me. As Hilfiger mentions, every company starts from the bottom and needs to work to build itself up.  He compared building a business to building a home. You need to go step by step, floor by floor. You can't skip ahead. So, what are some best practices for starting up a business, getting your name out there, and staying relevant?
Here are the three points that really stood out to me.
Step #1: Do something disruptive
As you start a marketing campaign, think differently. What will make you stand out from the rest? George Lois, who headed up Tommy's advertising, states you need to "do something disruptive." Get the consumers' attention. One of Tommy's first ads is best known as the Hangman campaign. It features the names of four well-known American designers for men, only showing the first initials of their first and last names (Ralph Lauren, Perry Ellis, and Calvin Klein). Plot twist…there was a fourth name listed, Tommy's, and a line showcasing the logo for the "least known" of the four designers. The ad teases viewers that soon, they will know Tommy Hilfiger and states the other designers will have some competition. What makes this ad so great? Tommy showcases the best designers and then boldly compares himself to them. It was a great way for consumers to ask, who is this Tommy Hilfiger? In the case of my company, it was delivering a quality level of music test research at a price point previously unavailable to the market.
Step #2: Pick a lane and stay in that lane until you perfect it
Where's The Beef? Just Do It. Give Me A Break. I'm Lovin' It. A Diamond Is Forever.
You're probably familiar with all the companies that have consistently employed these taglines. They're etched in your memory not only due to their catchiness but also because these companies have unwaveringly used them.
One of the most critical elements in growing a business is establishing and retaining brand recognition. Some of the most prosperous companies have clung to the same taglines and logos for numerous years. Tommy's logo, for instance, has remained unchanged since its inception, and I would venture to guess that most consumers could identify it as a Tommy Hilfiger brand just by seeing the logo without the name. When it comes to brand awareness, repetition is key.
Step #3: Evolve and differentiate
How can companies distinguish themselves and maintain relevance in a fiercely competitive market? Tommy emphasizes that merely following the crowd won't secure your place in the market. What actions can you and your company take to truly stand out and excel, surpassing your competitors? What is your unique value proposition?
Coleman Insights' experts Jon Coleman and Jay Nachlis have extensively discussed the concept of Blue Ocean Strategy. This strategic approach is one that the Hilfiger brand adopted years ago. Tommy Hilfiger continually dedicates himself to enhancing his brand's identity and ensuring its continued relevance. He stresses the importance of crafting superior products and understanding the needs and desires of customers.
How do brands expand and stay relevant? Some companies offer new goods and services. Some, like Play-Doh, need to change the use of their product.
In the 1930s, the popular children's modeling clay, Play-Doh, was first sold as a cleaner that would help to remove residue from wallpaper. In the 1950s, as oil and gas furnaces became more popular, the demand for Play-Doh fell. The owners learned of a local schoolteacher using the clay for arts and crafts in their classroom. Seeing the potential of Play-Doh becoming a child's product, they quickly changed the product to add some vibrant colors making it more appealing to the children.
Disrupt, pick a lane, and evolve. While this is never an easy task and requires regular auditing of your brand, it's nevertheless a proven roadmap to success.