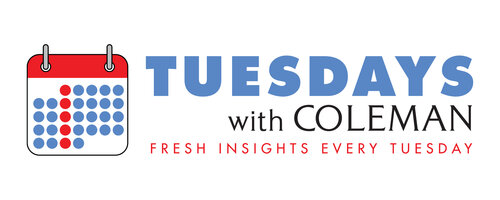 Welcome to the 50th Tuesdays With Coleman blog of 2022 (at Tuesdays With Coleman HQ, we never take a week off! Except at the end of the year. We definitely take that off.)
It's that time when Team TWC churns out Google Analytics, analyzes engagement, reveals the top five blogs of the year, and thanks you for your readership and support. Here's a look at 2022's Tuesdays With Coleman Hall of Fame.
"Which Entertainment is Generation Z Consuming?" By Jay Nachlis (July 12, 2022)
In this interview, Jay's 18-year-old son tells him which morning show he never misses (it's not on the radio,) which platforms he listens on and why, and which marketing has caught his attention.
"How Al Ries Influenced Coleman Insights" by Jon Coleman (October 18, 2022)
Following the passing of legendary marketer Al Ries, Coleman Insights founder Jon Coleman writes a touching tribute explaining how impactful Ries's philosophies have been on our company.
"The Hottest Radio Format Unknown to Most American Broadcasters" by Warren Kurtzman & Alan Burns (May 24, 2022)
The huge ratings success of Now! Radio in Edmonton inspires a research study by Alan Burns & Associates and Coleman Insights to gain a deeper understanding of the factors that drive the success of the format.
"The Urgency of Brand Building: A Conversation with Pierre Bouvard" by Sam Milkman (January 18, 2022)
In this conversation with Cumulus Media/Westwood One Chief Insights Officer (and our former colleague) Pierre Bouvard, readers learn the clear differences between short-term tactical strategies vs. a long-term branding strategy and the benefits of each.
"Time Stands Still (Again) in Contemporary Music SuperStudy 4" by John Boyne (April 26, 2022)
Any conversation around contemporary music in 2022 often included a mention of the increasing popularity of gold-based music and slowing progression of the appeal of newer titles. This first reveal of the findings of our annual benchmark study of contemporary music tastes indicated a remarkable continuation of the trend, with "Shape Of You" by Ed Sheeran taking the top spot for the third straight year.