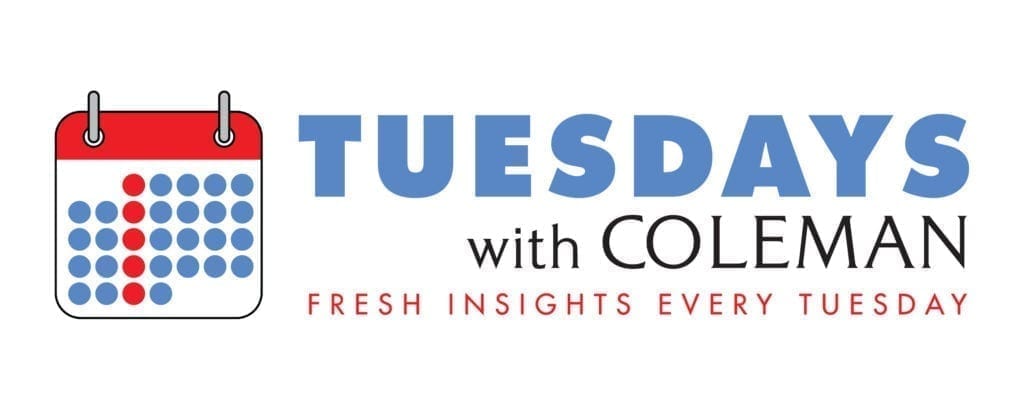 I treasure all Coleman Insights clients, but a specific client of ours holds a special place in my heart. This client is a stand-alone FM music station in a small market that more than holds its own against multi-station clusters owned by some of the biggest groups in American radio. It would be nice to claim that their success is due to their commitment to research—despite their status as a stand-alone in a market outside of the Top 100, they do a Plan Developer strategic study or a FACT360 Strategic Music Test every year—but their consistent commitment to maintaining their station's strong brand and delivering content designed to be as appealing as possible to their audience should be equally recognized. They also deserve credit for their long-term retention of one of the best programming consultants in the business.
This client's passion for delivering great content resulted in an email exchange between the general manager, the consultant and me that highlighted a point that I don't think can be reiterated too often: Radio programmers should not confuse content repeating with content creation. If they do, I fear their stations will become less relevant in the increasing competitive audio consumption landscape.
The exchange centered around how the station's morning host handled contestant Blair Davis's hilarious introduction of himself on a recent episode of Wheel of Fortune. Davis told host Pat Sajak about his "loveless marriage," described "his old battle-axe" of a wife and claimed to have been "cursed" by having three stepchildren. It was a funny joke that Davis and his family were in on and the clip of his appearance went viral immediately.
Our client was thrilled that his morning host was on top of this viral sensation; I, unfortunately, had to play the role of wet blanket. The problem wasn't the topic itself—it was timely and relevant. The issue was with how it was presented. Rather than generating fresh content based on the story, the host instead did little more than playing the audio from Wheel of Fortune, which many of the station's listeners may have already heard or could easily find on their social media feeds. Sure, radio personalities should talk about things that are happening in pop culture, but if all they do is repeat content that was created elsewhere—or at least do not do something to add to that content—radio will be in trouble.
What could a radio personality do with content like the Wheel of Fortune introduction? Examples include having listeners call in and do their own version of a Blair Davis-style introduction. Or how about if a morning show did a bit with celebrity impressions where famous people did their own introductions using the Blair Davis approach? I am sure people who are more creatively inclined can come up with better ideas than mine, but the point that you should take away from this is that radio can't be in the content repeating business and must be in the content creation business. The latter is a lot harder, but I believe it is essential for radio to continue to thrive.
In our research, we continue to see that music stations seen first for the music they play (the Base Music Position layer of their Image Pyramid) are the ones that tend to have the strongest ratings in the long run.
We also continue to see that stations that are perceived as more than "jukeboxes"—in that they have developed the upper layers on their Image Pyramids—engender greater loyalty from their listeners and therefore also enjoy greater ratings success. This development of additional imagery beyond their Base Music Positions is even more important today, as consumers have so many options for listening to their favorite music wherever they are. That's why music stations have to create and not just repeat nonmusical content. The industry's goal should be to get other media platforms to repeat the content radio stations create.