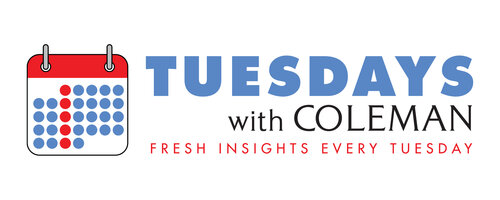 As we pass the halfway point of 2021, an analytics review of the first 26 Tuesdays With Coleman blog posts of the year indicate content popularity that was reflective of the times.
Four of the five most-read blogs had pandemic-themed undertones. The first blog that covered findings from our annual benchmark study of contemporary music tastes made the list. And it is an entry by our founder, Jon Coleman, on one of the most buzzed about topics in the industry, that claimed the top spot.
Here are the five most-read blogs of the first half of 2021, counted down from number five to number one.
5. The Branding of 2021's Emotional Milestones by Jay Nachlis (May 18, 2021)
Rather than looking back on the pandemic, this hopeful blog looked forward to conditions ahead of us. It is a reminder that audio brands can play a key emotional role in welcoming listeners back to a more normalized world.
4. Winning by Embracing Nostalgia by Warren Kurtzman (March 23, 2021)
The pandemic unleashed a wave of nostalgia, which Warren Kurtzman addresses in this entry. As he explains, the key to embracing it is making it meaningful. This blog featured examples from a number of brands in different industries.
3. Seismic Behavioral Changes and Your Brand by Jay Nachlis (June 15, 2021)
The most recent blog to make the list covered some of the massive behavioral changes brought on by COVID-19 and how your brand may be affected. Most importantly, it offered thoughts on how brand managers can shift their strategic thinking to adapt to new audience behavior that may never go back to "normal."
2. Pop Reigns Supreme (Again!) in Contemporary Music SuperStudy 3  by Warren Kurtzman (May 4, 2021)
Coleman Insights debuted the Contemporary Music SuperStudy in 2019 at the All Access Worldwide Radio Summit. Thanks to COVID, the findings from past two studies of contemporary music tastes were delivered virtually. Once again, the pandemic infiltrated a blog as this year's findings uncovered how music tastes in 2020 resembled the movie Groundhog Day.
1. Radio, You're Obsessing Over Alexa by Jon Coleman (June 1, 2021)
Many radio station managers are wrestling with how to incorporate smart speakers into their strategy. In the most-read blog of the first half of 2021, Jon Coleman makes the point that while promoting smart speakers should be part of the strategy, it must be done in a way that doesn't come at the expense of the station brand.
Thanks for reading Tuesdays With Coleman. Keep your feet on the ground and keep reaching for the stars.