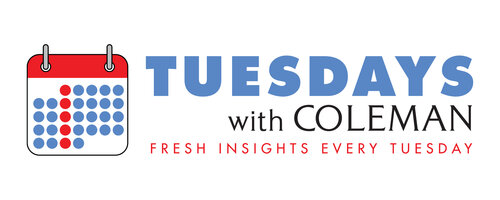 Coleman Insights founder Jon Coleman introduced Blue Ocean Strategy to Tuesdays With Coleman blog readers late last year in "Should Radio Go Back to Normal." In short, brands that find themselves in heavily competitive crowded market segments are in metaphorical shark-infested, blood-laden waters. Hence, Red Ocean. On the other hand, some brands have established unique points of market differentiation in the minds of the consumer. This clear lane is the Blue Ocean. A few months ago, it struck me that podcasting resembles a Red Ocean in a number of ways. It is dotted with millions of shows whose names, logos, hosts, structure, and production sound similar. I wondered if there was an opportunity for podcasters to apply Blue Ocean techniques that brands in other market segments have successfully used to differentiate and make the competition irrelevant. That's how the idea of my presentation, "Create A New Lane: Using Blue Ocean Strategy To Get Your Podcast Noticed," which I shared at the Podcast Movement conference in Nashville last week, began.
As Jon pointed out in his December blog, Blue Ocean Strategy may have value for underperforming radio stations. Is it better to live in the shadow of a dominant competitor or blaze your own trail? When, for example, a station in your cluster is the third highest-rated CHR or second highest-rated Country station, is it more strategically advantageous to choose an untapped or underserved lane?
One way to look at available opportunity in podcasting is by reviewing the number of shows in each category in Apple Podcasts. For example, the general Science category has over 30,000 shows. Chemistry, a subcategory of Science, has only about 900. Should you publish a general Science podcast that may cover Biology in one episode, Physics the next, and Chemistry the next…or do you publish one that focuses specifically on Chemistry, hyper-targeted to those interested in the topic?
The Religion category is a massive Red Ocean, with over 150,000 shows. Christianity is a subcategory of Religion but is its own Red Ocean at over 90,000. Yet Hinduism, observed by 15% of the world's population, represents less than two percent of the Religion category. Not to mention that India is the third largest podcast listening market. Whereas Religion and Christianity are Red Ocean, Hinduism is Blue Ocean. The most underserved categories? That belongs to swimming and volleyball, at only about 130 shows each. Total. As James Cridland of Podnews likes to say, "If you can't rank in the Top 150 for swimming, you're doing it wrong."
This Red/Blue Ocean exercise can also apply to topics as opposed to categories. The Golden State Warriors are a hugely popular NBA franchise. If you search for "Golden State Warriors podcast," Google's algorithms will offer you many suggestions of shows that cover this topic. But do the same thing for "Stephen Curry podcast," and you'll find none. Zilch. Zero. But Google will recommend a golf podcast. Curry is one of the most popular athletes of all-time, yet there is seemingly no podcast focused on him. If you launched both today, which would have a better chance at acquiring new listeners? A general Warriors podcast amongst a sea of established Warriors podcasts or a Steph Curry one? The Golden State Warriors are Red Ocean. Stephen Curry is Blue Ocean.
Apply this exercise to your content, as a sales consultant that attended my session did. He explained to me that his podcast offers broad sales advice. The name of his show implies broad sales content. Now, he's thinking about how to focus his show. He's considering his target listener. Is it C-suite level? Sales managers? What market segment? A company that sells software for used car dealers has a podcast called – you guessed it – The Used Car Dealer Podcast. It's a great brand building and lead generating show for them, though they wisely don't use the show as a commercial. A podcast for car buyers (or even car dealers) is Red Ocean. A podcast for used car dealers is Blue Ocean.
When deciding to adopt Blue Ocean Strategy for your podcast, it's important to remember you should not just pick a category or topic because it is underserved or narrowly focused. The content still has to be great. You must have a level of expertise, and put in the research and the work to make it so. But if you do, and the category or topic are Blue Ocean, you are increasing your chances of success.
Finally, it's important to remember that Blue Ocean strategists don't differentiate with just one thing. The greatest Blue Ocean brands differentiate in multiple ways. That means thinking about all the things podcast listeners see when they search for shows. The thumbnails look alike. The descriptions sound the same. The structure and production value is similar. Make a list and consider how you would Blue Ocean each item. The show name. The logo. The description. The sound. The host. The category. The topic. And so on.
Next stop: Blue Ocean!