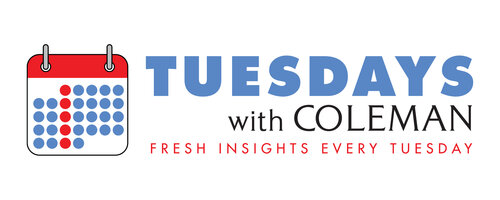 As we celebrate this 4th of July week in the United States while many fortunate readers of this blog may be on a beach somewhere, we present the first Tuesdays With Coleman Summer Beach Reading List. Oh sure, you might be one of those who prefer some escapist fiction on your chaise lounge. But if you prefer to keep your nose firmly entrenched in business, marketing, and research strategy like some people we know around here, we've got just the five books for you, listed in no particular order.
BLUE OCEAN STRATEGY by W. Chan Kim and Renée Mauborgne (recommended by Jay Nachlis)
It might be clear from the blog Jon Coleman wrote ("Should Radio Go Back to Normal?") or the session I presented at Podcast Movement or the insights we've shared with clients that we really like Blue Ocean Strategy.
The theory behind Blue Ocean Strategy is that most brands swim in "red oceans" – bloody, shark-infested, highly competitive market segments. Blue Ocean brands effectively create new market segments, eliminating competition.
2. THINK AGAIN: THE POWER OF KNOWING WHAT YOU DON'T KNOW by Adam Grant (recommended by Sam Milkman)
Generally speaking, people don't like being wrong. But when we let go of views that are no longer serving us well, the opportunities are boundless. I wrote a Tuesdays With Coleman blog last year called, "Your Worst Enemy At Work Is…" that explained just how dangerous pre-conceived notions can be. One of the things that makes research so valuable is that it can challenge or validate pre-conceived notions in a completely un-biased way. This book takes the natural human fear of being wrong and flips it on its head. It argues that when you embrace reconsidering what you believe, the most amazing things happen.
3. WHAT GOT YOU HERE WON'T GET YOU THERE by Marshall Goldsmith (recommended by Meghan Campbell)
This book focuses on 20 bad habits that are putting up obstacles to your success. It's a leadership meets self-help guide that will likely make you aware of more than a couple things you didn't realize you were doing.
4. HOW BRANDS GROW by Byron Sharp
This gets a nod from multiple members of the Coleman Insights consultant team, after it made the rounds a few years back. I referenced Sharp's book in the 2018 Tuesdays With Coleman blog, "Don't Change Your Radio Station." As Sharp says, "Again and again it appears in numerous product categories, markets and countries that there is a fundamental law of brand size. Big brands have markedly large customer bases." Building a big brand takes time (a lot of time), and the biggest brands are consistent about what they deliver. Sharp's book is a poignant look at the art of brand building.
5. FOCUS by Al Ries (recommended by Jon Coleman)
We could list many Al Reis and Jack Trout books on this list, but we'll stick with the favorite of our founder, Jon Coleman. As Jon explained in his Tuesdays With Coleman blog, "What's Your Word?", owning a word can drive a decision. Focus does an incredible job of explaining how and why brands can become unfocused and lose their edge with consumers.
Enjoy the week – if you've read any of the books we recommend or have others to add to the list, please leave them in the comments!